Houston sees 'moderate' home sales and rising inventory in June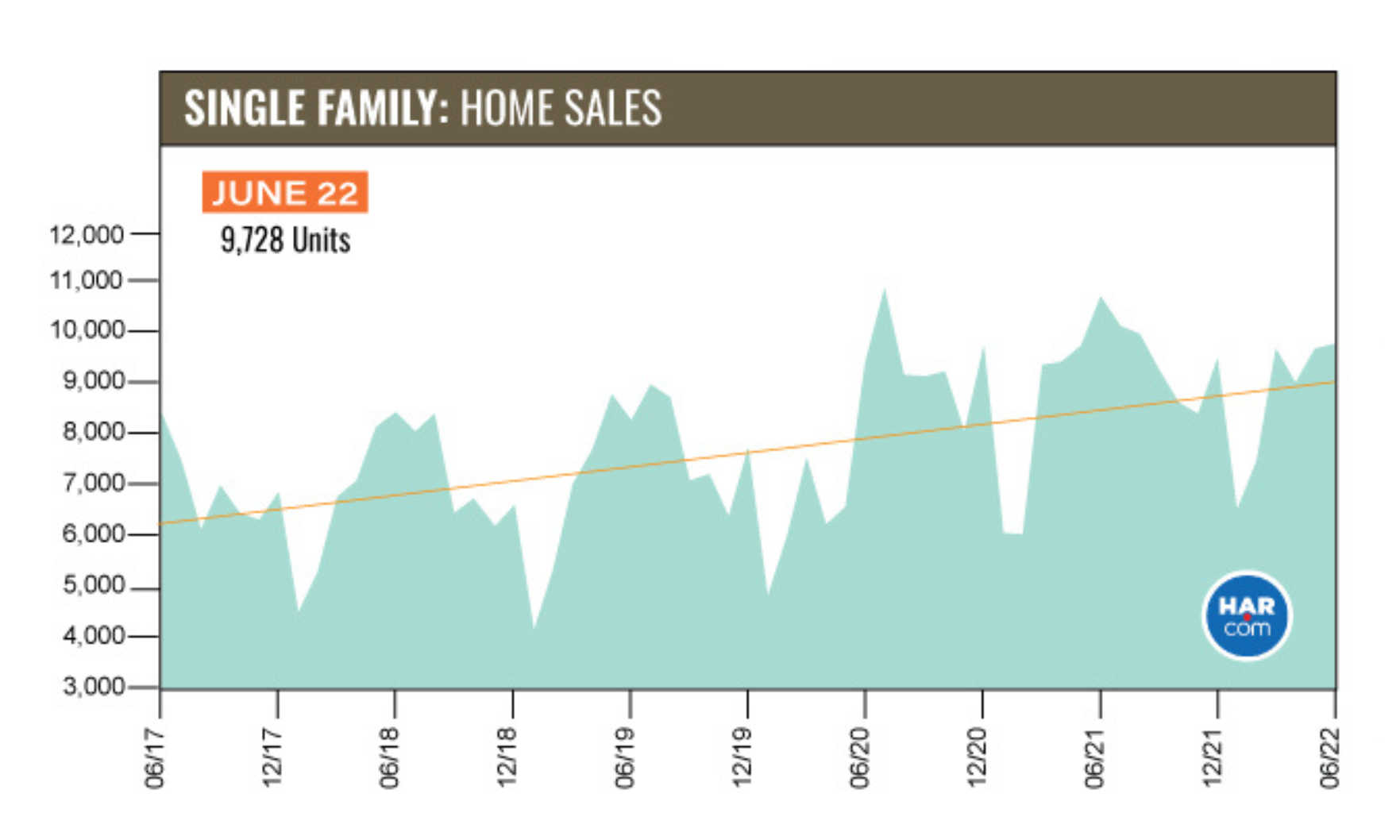 As summer temperatures hit record highs in June, Houston's sizzling housing market began a long-awaited cooling. Home sales saw their first significant drop in 2022, reflecting a perfect storm that had been brewing for months: the combination of dwindling inventory, record prices and, most recently, rising interest rates in addition to a climate of rising inflation.
According to the Houston Association of REALTORS® (HAR) June 2022 Market Updatesales of single-family homes fell 8.6%, marking the third consecutive monthly year-over-year decline with 9,728 units sold compared to 10,649 in June 2021. However, the market is still ahead by 1, 7% on the record volume of 2021.
Again, the $500,000 to $1 million home segment attracted the highest sales volume of the month, posting a 22% year-over-year sales volume gain. Homes priced between $250,000 and $500,000 rose 2.4%, while the luxury segment (homes priced $1 million and above) saw its first decline in two years, sliding 2.3%.
A continued lack of homes priced below $250,000 has left consumers with no choice but to weigh more expensive real estate options and focus on rental homes or postpone buying plans altogether. or rental.
Some relief came after June home sales figures were tallied. During the first week of July,
mortgage rates finally reversed course, with Freddie Mac reporting that the average interest rate on a 30-year fixed rate loan fell from 5.7% to 5.3%, the biggest drop since 2008. However, 5 .3% is well above the average rate of 2.67% on 30-year fixed rate loans that prevailed in December 2020.
The average price of a single-family home rose 11% in June to $436,425, slightly below last month's record, while the median price jumped 13.2% to $355,000, the highest median of all time.
The average price of a single-family home in Houston broke the $400,000 mark in March of this year. The median price has been above $300,000 since May 2021.
"With strong economic headwinds facing consumers right now, it's no surprise that home sales fell in June and could stay below record highs for some time as the market normalizes." , said HAR President Jennifer Wauhob. "The drop in sales was inevitable given the limited supply of homes, record prices, rising interest rates and inflationary pressures that we all feel every day at the pumps, the supermarket and paying our bills. ."