Are copper prices boosted by dangerously low inventory levels?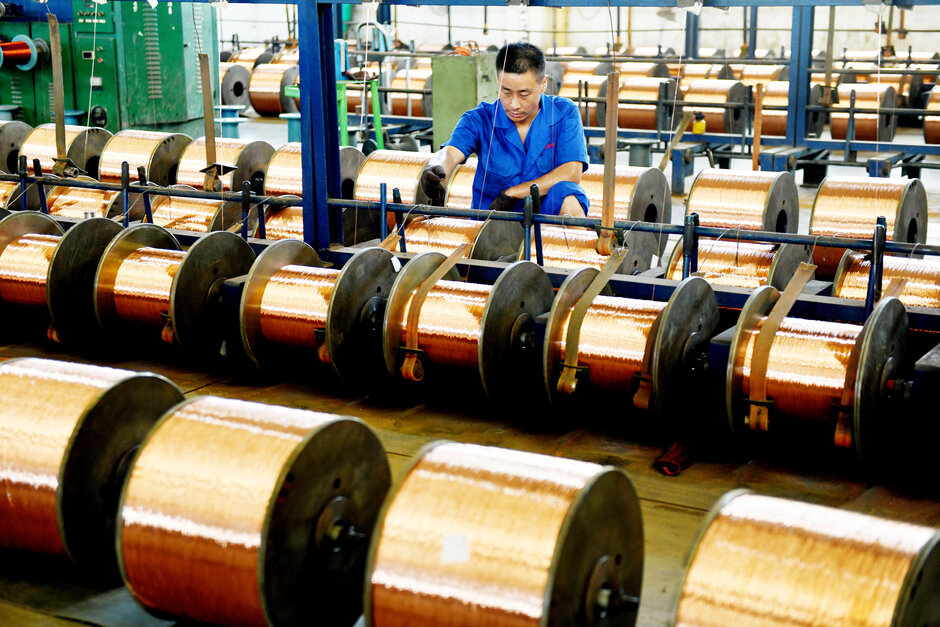 Copper prices have risen around 8% this week, boosted by the worrying drop in inventory levels of the metal around the world. As of this writing, copper is trading at around $3.7 per pound, with a monthly gain of around 8.7%.
China has also been intrinsically linked to copper prices, as the country is the largest consumer of copper, accounting for around 52% of total global demand. Copper prices were also supported by speculation that the Chinese government was planning to exit its covid-zero strategy.
Copper prices are up almost 8% this week
Why are copper have the prices gone up so much lately?
Copper prices are mostly up right now as reserves of the metal have fallen to record lows in recent weeks. With copper being a crucial input metal in a number of industries, this has led investors to worry about the availability of supplies in the coming months, helping to drive prices up further.
Metals and minerals trading company, Trafigura, has painted an alarming picture, in which copper reserves are expected to fall to around three days of global consumption by the end of 2022. This is largely due to the acceleration of the green transition and supply already underway. tight in recent months. Thus, copper prices should be even higher by the end of the year.
Trafigura is by far not the only whistleblower in this case and has been backed by mining and energy companies such as Freeport McMoRan (FCX) and the BHP group (BHP). According to BHP Group CEO Mike Henry, there may be "a lag between when demand increases and when supply meets that demand", when it comes to copper.
According to Freeport McMoRan CEO Richard Adkerson, current copper prices do not sufficiently highlight the "surprisingly tight" position of the current market.
This comes at a time when fears that copper will be harder to mine and extract are mounting. According to this report by Wood Mackenzie, approximately 9.7 million tonnes of new copper will be needed over the next decade.
However, the projects from which this new copper supply is expected have often not received the required investment, or have not yet been approved by governments and councils and are still awaiting environmental permits.
This makes it even more likely that copper supply won't match demand anytime soon, leading investors to speculate that the copper market could well run into a deficit by the end of the decade.
As the energy crisis caused by the Russian-Ukrainian war rages on, more and more governments and industrialists are turning to renewable energy sources in order to meet soaring energy bills. This led to an unprecedented boom in copper demand, which also drove up prices.
Copper is also buoyed by continued speculation that China will relax its zero COVID strategy in the coming months, which will greatly benefit manufacturers and industries. However, official comments are still pushing back on those speculations at this time.
How do you feel about Copper?
Vote to see the sentiment of traders!
Copper analysis: merchant engagement
Copper prices were trading around $3.7 per pound at the time of writing. This is a significant improvement from the resistance level around $3.5 per pound, which the metal has been struggling to clear since mid-September.
As Piero Cingari, Market Specialist at Capital.com, has pointed out, from April this year a significant number of large speculators who were net long in copper switched to net short, reflecting a high level of pessimism in the market. . It also coincided with a decline in copper prices. Currently, the CFTC's speculative net copper positions sit at around -7,484.
Last week we saw a slight improvement in sentiment among large copper traders, meaning that the number of speculative contracts in net short positions is slowly decreasing, which could imply that the copper bear market may have reached a tray.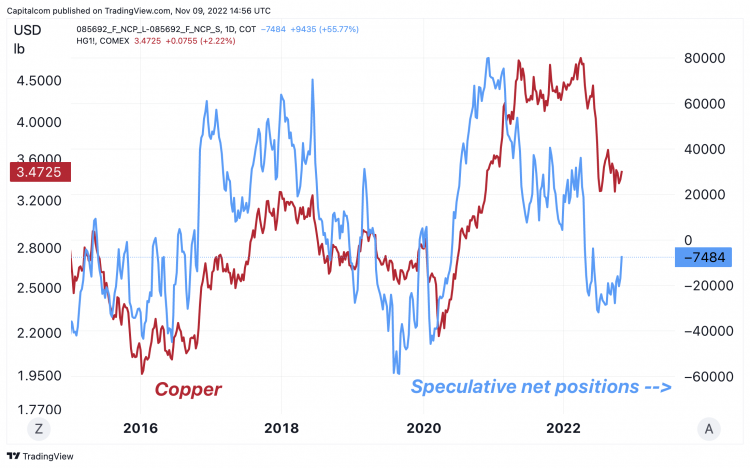 Copper prices are up nearly 8% in the past week – Credit: TradingView
What are the prospects for copper?
With copper reserves having reached alarming levels in recent months, copper prices could climb even higher in the coming months as copper is widely needed in a number of industries.
Investors are also closely watching demand from China, which is the biggest consumer of the metal. This includes monitoring any future comments from the Chinese government on easing current zero-COVID policies.
If, however, China does not ease its policy in the coming weeks, as investors expect, copper prices could fall. According to TD Securities, copper prices are expected to trade around $3.6 per pound in the fourth quarter of the year and around $3.59 by the end of next year.
In the long term, however, copper prices should remain very robust, especially as the energy transition accelerates and more copper is needed for products such as electric vehicles and solar panels.
Related reading