Artemis flies to the Moon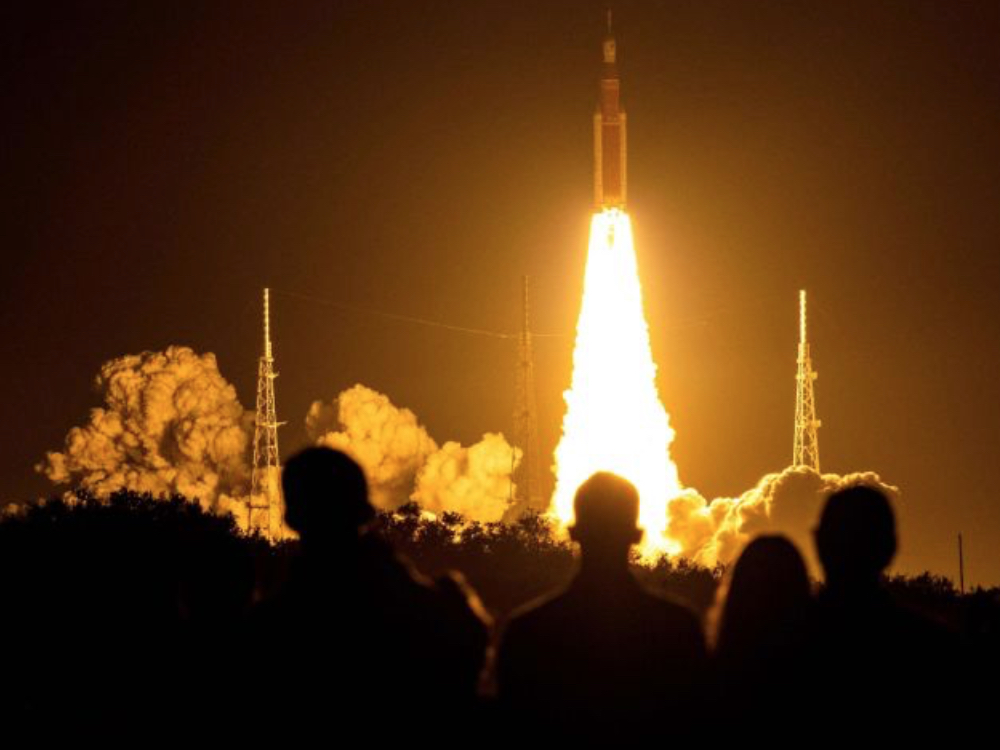 With contributions from 42 WA businesses and funding led by Senator Cantwell
published information, file photo
Major contributors to NASA's Artemis project include companies located in Clallam, Cowlitz, King, Kitsap, Pierce, Snohomish and Spokane counties. Cantwell has long supported Artemis, which aims to land the first woman and person of color on the Moon
WASHINGTON DC – Today, NASA's Artemis I mission successfully launched from Kennedy Space Center. This is the first uncrewed test flight of the Artemis program, designed to return humans to the Moon and prepare for human exploration of Mars. It is also the first flight of the agency's Space Launch System (SLS) rocket, led by Boeing, and the second spaceflight of the Orion crew capsule, led by Lockheed Martin.
Orion, which is intended to carry astronauts, will fly about 60 miles from the Moon's surface and then travel thousands of miles beyond the Moon, using the Moon's gravity to help propel the craft towards Earth. The craft is expected to make a safe and precise landing off the coast of Baja, California on December 11.e.
"Today's launch lays the groundwork for landing a woman and a person of color on the Moon for the first time in history," Senator Cantwell said. "It also shows that Washington State remains a leader in the aerospace industry, with workers from 42 companies in seven different counties contributing components to Artemis missions. Today's success is key to inspiring the next generation of STEM workers and to maintain American leadership in space, which is why we fought to authorize NASA and Artemis in the recently passed CHIPS & Science Act.
Washington is a significant contributor to the Artemis program, with 42 companies supplying components for Artemis I or later Artemis missions, including: General Dynamics in Bothell, Aerojet Rocketdyne in Redmond, Blue Origin in Kent and Toray Composites Material in Tacoma. A complete list of Washington companies supporting the Artemis program is available HERE.
NASA astronauts Kayla Barron and Anne McClain, both from Washington, are among 18 people being considered to go to the moon.
In November 2019, Senator Cantwell co-sponsored the bipartisan NASA Authorization Act of 2020, which sought to recognize Artemis missions in US law for the first time. To provide program certainty and stability, language authorizing Artemis missions and requiring NASA to establish strict monitoring requirements was eventually incorporated into the CHIPS & Science Act, which Cantwell led in Congress. The CHIPS & Science Act was signed into law on August 9, 2022.
The CHIPS & Science Act also authorizes an unprecedented $13 billion in funding for STEM education to the National Science Foundation (NSF), which is three times the NSF's annual STEM education budget. Nearly $2 billion is authorized to go to minority-serving institutions and other emerging research institutions across the country that have a proven track record of helping to develop a diverse workforce.