BOC takes inventory of assets seized in Caloocan shabu lab raid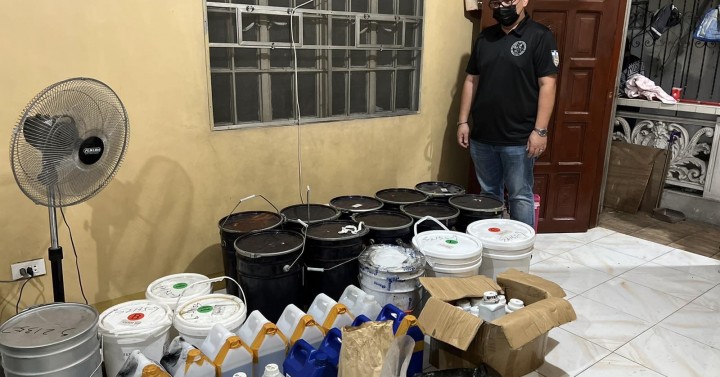 MANILA – An inventory will be carried out on other imported goods found in a shabu laboratory recently raided by authorities led by the Bureau of Customs (BOC).
In a statement on Monday, the office said a designated customs examiner would compile a list of items such as blankets and bags.
The composite team led by the BOC Customs Intelligence and Investigation Service-Manila International Container Port (CIIS-MICP), raided the laboratory located along A. Mabini Street, Maypajo, Caloocan City on March 11, to implement the letter of authorization and the mission order signed by Commissioner Rey Leonardo Guerrero.
Director of Customs Intelligence and Investigations, Jeoffrey Tacio, said the operation followed the buyout operation on March 8, 2022, when they first apprehended illegal drugs manufactured in the laboratory.
He said the discovery of the clandestine lab resulted from close cooperation and a buildup of cases led by the Intelligence and Investigations Department of the Philippine Drug Enforcement Agency (PDEA).
"Successful operations like these would not be possible without close coordination among other law enforcement agencies," the BOC official added.
The raid team found a liquid substance that tested positive as an illegal drug after being immediately identified by a PDEA chemist.
Also seized were various containers of different colors containing a liquid substance, a scale, aluminum trays, a rice cooker, a vacuum pump and several metal containers with lids, a sealing machine, a refrigerator, several plastic items , various controlled precursors and essential chemicals (CPECS ), various laboratory equipment and various financial documents.
According to the agency, the labs can produce three kilos of shabu a day and have been operating for more than a year. No suspects were apprehended during the raid.
The operation came just days after Chinese national Tianzhu Lyu of Fujian, China, and his Filipino cohort Meliza Villanueva fetched PHP 1 billion worth of shabu in a buy-bust operation in the city of Valenzuela. .
Customs Deputy Commissioner for Intelligence Raniel Ramiro said the office will continue to investigate the presence of small-scale shabu labs in the country to stop domestic production of illegal drugs and other substances in the country. country.
"While we protect our borders from the entry of drugs and any products used in their production, it is high time that we also eliminate the small-scale domestic production of shabu and any other drugs that these criminals sell on the streets. ", he added. .
The operation was also coordinated with the BOC-Enforcement and Security Services (ESS) and the Philippine National Police-Drug Enforcement Group. (NAP)