China Weekly Inventory Summary and Data Summary (April 29)_SMM

SHANGHAI, April 29 (SMM) — This is a roundup of China's weekly metal inventory as of April 29.
Aluminum billet inventory decreased by 11,600 tonnes per week
National inventory of aluminum billets stood at 105,900 tonnes as of April 28, down 9.88% from a week ago. Stock changes in each of the five major regions were as follows: Nanchang (-4,200 mt or 38.46%); Changzhou (-500 t or 4.03%); Foshan (-1,700 t or 3.6%); Wuxi (-6,200 tons or 18.28%); Huzhou (+1,000 t or 7.69%).
Transportation efficiency in Wuxi improved slightly, and local downstream producers restocked as needed ahead of the upcoming Labor Day holiday. Downstream consumption has been sluggish in Foshan, causing local inventories to decline at a slower pace.
Downstream transportation and shopping in eastern China were still hampered by the pandemic. Overall, social stocks are expected to fall further after the holidays due to downstream restocking.
Aluminum inventory fell 34,000 tonnes per week
According to statistics from the SMM, the social stockpile of aluminum across China stood at 987,000 tons, down 34,000 tons from April 21, down 11 percent or 128,000 tons from it. a year ago. Aluminum inventories hovered low and continued to decline. By region, delivery from Wuxi gradually recovered with a decrease of 25,000 tons in weekly stocks. Shipments from Wuxi were mainly delivered to surrounding areas. Some goods were transferred to Gongyi with low volume due to low trucking capacity and restricted inter-provincial transportation. While Gongyi shipments went smoothly, but arrivals declined due to transportation restrictions, resulting in a continued decline in stocks, with stocks down 22,000 tons to 65,000 tons from April 21. In Nanhai, stocks have increased by 13,000 tons since April 21. due to increased arrivals and weak downstream demand. Inventories remained stable in Hangzhou and Tianjin.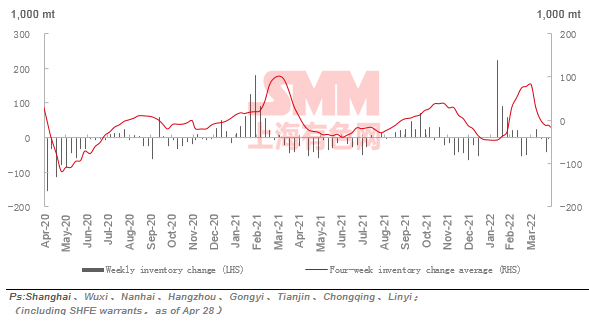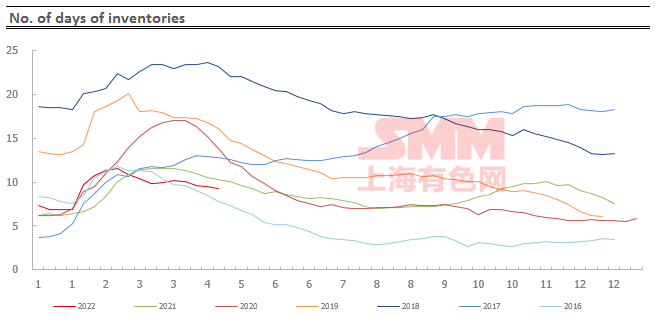 Zinc ingot inventory dropped by 6,500 tons in a week
Total zinc ingot inventories in seven major markets in China stood at 277,100 tons as of Friday, April 29, down 6,500 tons from April 22, down 6,800 tons from April 25.
Domestic zinc inventories fell sharply this week. In Shanghai, the containment has not been lifted. Although goods could be picked up with a permit, no deliveries were seen and inventories in Shanghai continued to rise. In Tianjin, arrivals increased and it was heard that there were about 50,000 tons of zinc ingots for export at Tianjin port. As a result, inventory in Tianjin fell sharply this week due to increased export demand and demand for downstream replenishment ahead of the Labor Day holiday. In Guangdong, arrivals were down from last week. Inventory in Guangdong declined due to higher exports and downstream restocking for Labor Day, while some traders received zinc ingots for export. In Zhejiang, the drop in inventories was mainly due to downstream demand for the Labor Day holiday. Stocks in Shanghai, Guangdong and Tianjin fell by 2,600 tons, and stocks in seven markets fell by 6,500 tons.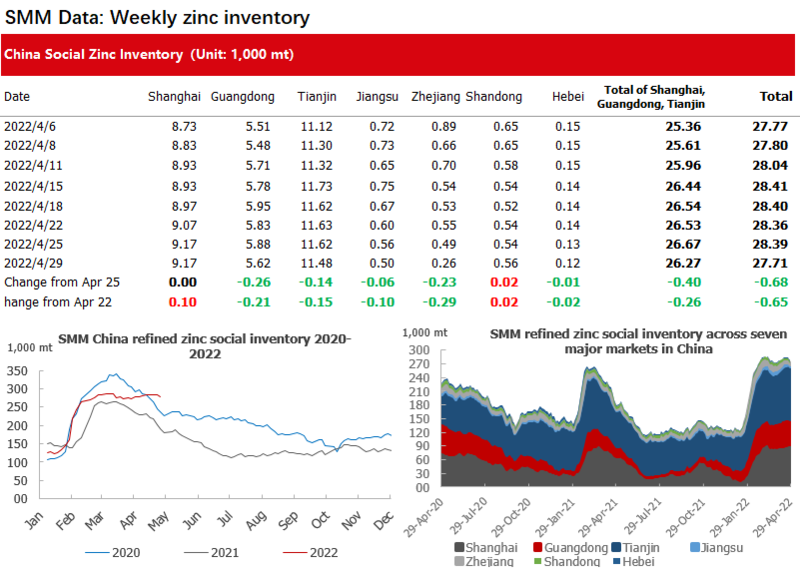 Nickel ore stocks at Chinese ports increased by 213,000 tonnes per week
As of April 29, nickel ore inventories in Chinese ports increased by 213,000 mt from last week to 5.877 million mt. The total Ni content was 46,200 tonnes. Total inventory at seven major ports in China stood at 2.605 million wmt, up 53,000 wmt from the previous week. Port stocks of nickel ore have gradually increased. Shipments from major mining regions in the Philippines increased sharply as the rainy season passed. Accordingly, the supply will be sufficient. Shipping is expected to return to peak season levels after May. NPI plant demand for nickel ore has been dragged down by the uncertainty of further developments in the NPI market. In addition, the pandemic-induced transport problem has slowed the consumption of port stocks of nickel ore. In the short term, the port's nickel ore inventories and the increase in inventories are expected to gradually increase.

Copper stocks in major Chinese markets fell 4,300 tonnes this week
As of April 29, copper inventories in major Chinese markets fell 4,300 tonnes from Monday to 110,600 tonnes, down 16,700 tonnes from last Friday. Total inventory was lower than the same period last year. Stocks in Shanghai, Chongqing and Chengdu rose, while stocks in Guangdong, Zhejiang, Jiangxi and Tianjin fell. Among them, the inventory in Shanghai increased the most. According to SMM's research, most foundries are hesitant to ship goods to warehouses in Shanghai, instead they send their goods to Changzhou, Wuxi or directly to factories. The increase in Shanghai inventories was contributed by the sharp increase in imported copper arrivals and impeded transport. The sharp drop in Guangdong inventory was caused by the huge gap between eastern and southern China, which attracted many traders and factories to ship goods from Guangdong inventory to Zhejiang, Jiangsu and South China. Jiangxi. In detail, inventories in Shanghai increased by 5,000 tons to 78,900 tons, inventories in Guangdong fell by 8,900 tons to 23,400 tons, inventories in Chongqing increased by 700 tons to 900 tons and inventories in Tianjin fell from 200 tons to 1,100 tons.
Looking ahead, according to SMM's research, most downstream manufacturers in eastern and southern China will have a longer holiday for May 1. Therefore, the inventory on the first day before the holiday is expected to increase significantly and be higher than in the same period last year. However, due to the resumption of downstream production and low factory inventory, it is expected that the downstream will replenish and then the inventory will drop again.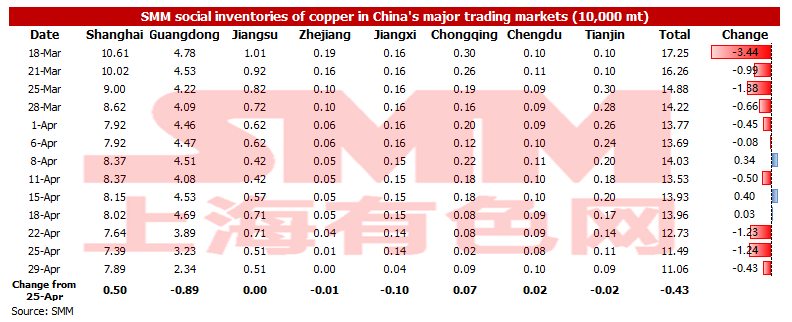 Domestic Bonded Zone Copper Stocks Up 6,300 Tons Weekly
According to research by SMM, copper stocks in the national bonded area increased from 6,300 tons on April 22 to 328,700 tons on April 29. Stocks in Shanghai bonded area increased by 6,000 tons to 289,300 tons, and stocks in Guangdong bonded area increased by 300 tons to 39,400 tons. mt. This week, the price ratio continued to improve on WoW. However, due to restrictions on documents and logistics, the actual flow of goods remained inefficient. Goods piled up in ports slowly flowed into bonded warehouses, slightly increasing the inventory in the bonded area.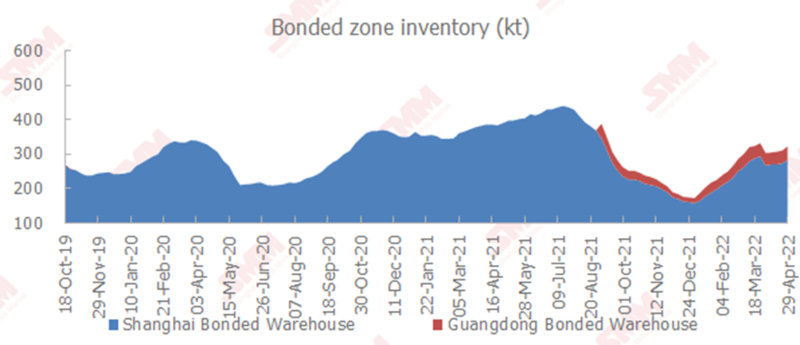 Nickel inventory in Shanghai's bonded area remained nearly unchanged this week
This week, LME nickel remained volatile. Due to macroeconomic factors, SHFE nickel prices remained range-bound at high levels this week, and the price ratio did not improve. Nickel stocks in Shanghai's bonded area stood at 8,200 tonnes this week. The inventory of nickel briquettes and nickel plates was 2,900 tonnes and 5,300 tonnes respectively, stable compared to last week. Due to the COVID-19 outbreak, the operation in Shanghai's bonded area has stalled. At present, LME nickel has not regained liquidity, but SHFE nickel prices are high due to supply shortages in China. If SHFE nickel prices are maintained at current levels, imports will make a profit.

SMM China's lead ingot inventory fell 2,600 tons per week
SMM China's lead ingot stock in five major Chinese markets stood at 94,800 tons as of April 29, down 2,600 tons from last Friday, April 22 and 3,900 tons from Monday, April 25.
According to the research, lead ingot supply has improved overall compared to last week. However, the most shippable brands carried out maintenance, while the downstream restocked on demand as Labor Day approached. Downstream players mainly bought from surrounding markets, including Zhejiang and Jiangsu, where local lead ingot stocks fell.
On the other hand, most downstream businesses will be closed for the Labor Day holiday, which could lead to a buildup in social inventory.