China Weekly Inventory Summary and Data Summary (August 26)_SMM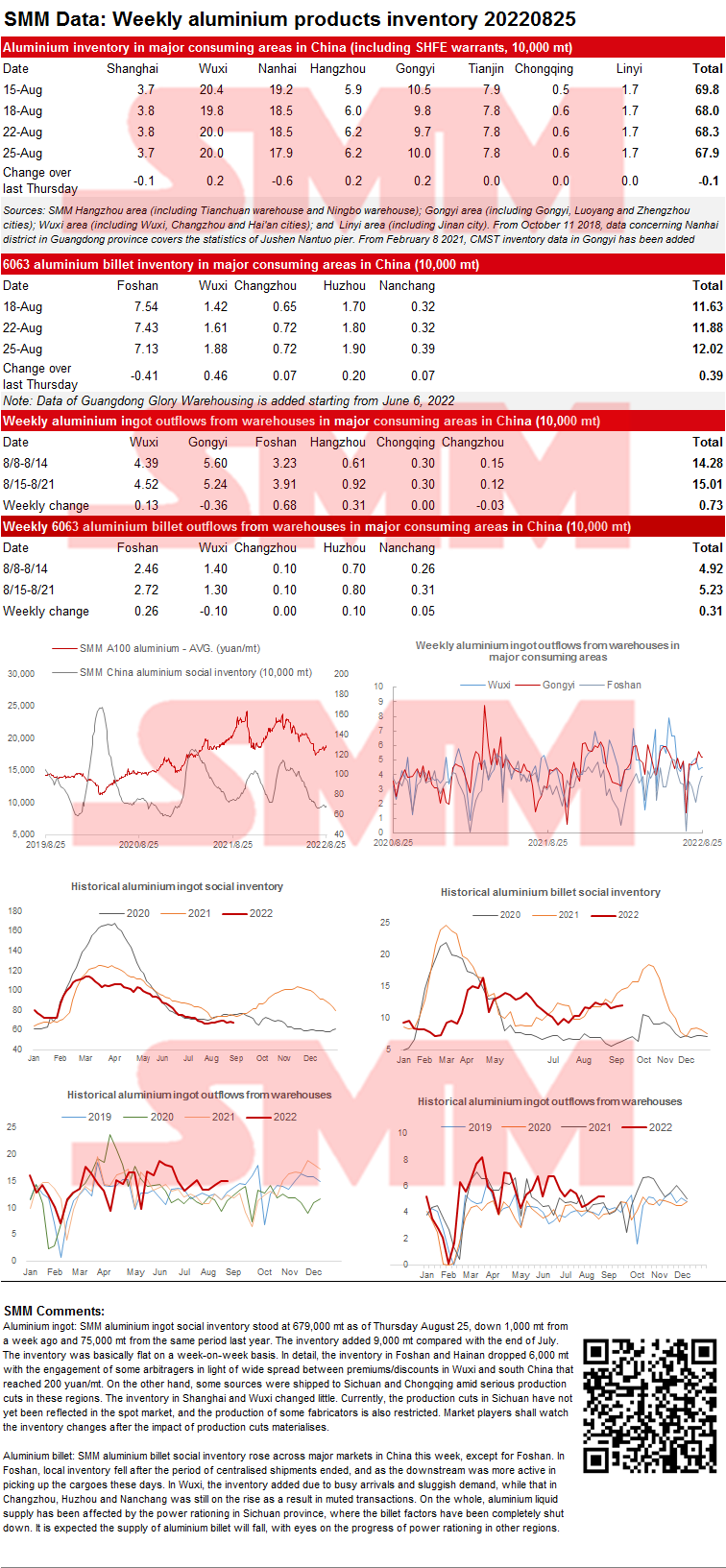 SHANGHAI, Aug. 26 (SMM) — This is a roundup of China's weekly metal inventory as of August 26.
Social inventory of aluminum ingots fell while billet inventory increased
SMM's social inventory of aluminum ingots stood at 679,000 tonnes as of Thursday, August 25, down 1,000 tonnes from a week ago and 75,000 tonnes from the same period last year. last year. Inventory added 9,000 tons compared to the end of July. Inventory was essentially stable week over week. In detail, stocks in Foshan and Hainan fell by 6,000mt with the commitment of some arbitrageurs given a wide spread between premiums/discounts in Wuxi and South China which reached 200 yuan/ tm. On the other hand, some sources have been shipped to Sichuan and Chongqing amid severe production cuts in those regions. The inventory in Shanghai and Wuxi changed little. Currently, the production cuts in Sichuan have not yet reflected in the spot market, and the production of some manufacturers is also limited. Market participants will be monitoring inventory developments after the impact of production cuts materializes.
Social inventory of SMM aluminum billets increased this week in major Chinese markets except Foshan. In Foshan, local stocks fell after the end of the centralized shipping period, and as the downstream was more active in picking up cargo these days. In Wuxi, inventories rose due to busy arrivals and sluggish demand, while in Changzhou, Huzhou and Nanchang were still up due to muted transactions. Overall, the supply of liquid aluminum has been affected by power rationing in Sichuan province, where billet factories have been completely shut down. The supply of aluminum billets is expected to fall, with eyes on the progress of power rationing in other regions.
Copper stocks in domestic bonded areas fell 18,900 tonnes from last Friday
Copper stocks in domestic bonded areas fell from 18,900 tonnes from last Friday August 19 to 175,100 tonnes as of August 26, according to the SMM survey. Inventory has been declining for nine straight weeks, and the decline has slowed this week. Stocks in the Shanghai bonded area fell from 16,500 tons to 154,300 tons, and stocks in the Guangdong bonded area fell from 2,400 tons to 20,800 tons. Goods locked in the SHFE/LME price report at a time when the import window opened were shipped from warehouses one after another. In Guangdong, the amount of goods arriving at ports was limited. In addition, social stocks in China continue to hit record highs and domestic spot premiums have increased, attracting goods stored in bonded warehouses.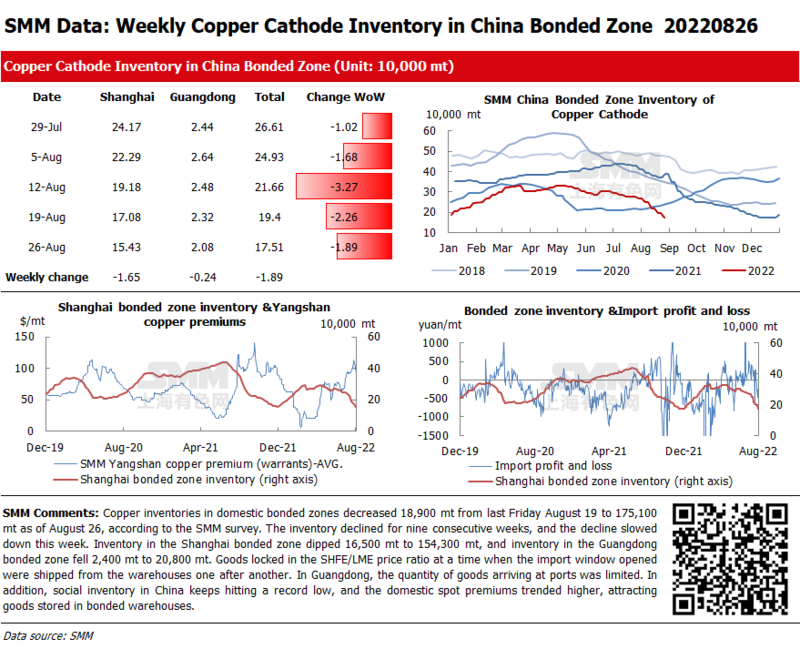 Copper inventory in major Chinese markets Added 9,800 tons from Monday
As of Friday, August 26, SMM copper inventories in major Chinese markets stood at 68,300 tons, up 9,800 tons from Monday and 7,000 tons from last Friday. Compared to Monday's data, copper inventories in most regions of China were down, except for Shanghai. Total inventory fell by 66,200mt compared to the same period last year when inventory was recorded at 134,500mt. Among them, Guangdong's inventory fell by 33,800 tons and Shanghai's by 22,100 tons.
In detail, the inventory in Shanghai increased from 13,600 mt to 61,100 mt as the arrival of imported copper increased. Inventory in Guangdong decreased from 1,900 tons to 2,700 tons, which continues to hit new lows. On the one hand, the arrival of imported copper was weak. On the other hand, domestic copper production was unstable, which may not improve in the short term.
In the future, as electricity rationing in various regions is eased, domestic copper production will gradually increase. However, consumption is expected to weaken next week on high premiums and copper prices as well as the end-of-month factor. SMM believes weekly inventory next week may continue to rise.

Social lead ingot inventory plummeted nearly 10,000 tonnes amid energy rationing
As of August 26, the social inventory of lead ingots in Shanghai, Guangdong, Zhejiang, Jiangsu and Tianjin was 67,200 tons, down 9,300 tons from last Friday (August 19) and 6,800 tons from last Friday (August 19). to Monday (August 22).
According to the research, due to electricity rationing in Anhui and Henan, the supply and demand for lead ingots have decreased. As supply decreased more significantly, the regional supply difference widened further. In this scenario, downstream companies purchased goods that were in warehouses, hence the social inventory of lead ingots plummeted by nearly 10,000 tonnes. Also, as the high temperature decreased, the power supply improved. For example, Anhui has stopped electricity rationing since August 25, and local secondary lead smelters have resumed production. The market should pay attention to power rationing in Jiangsu, Hunan and Henan. Supply is expected to rise more than demand, and the decline in lead stocks may slow next week.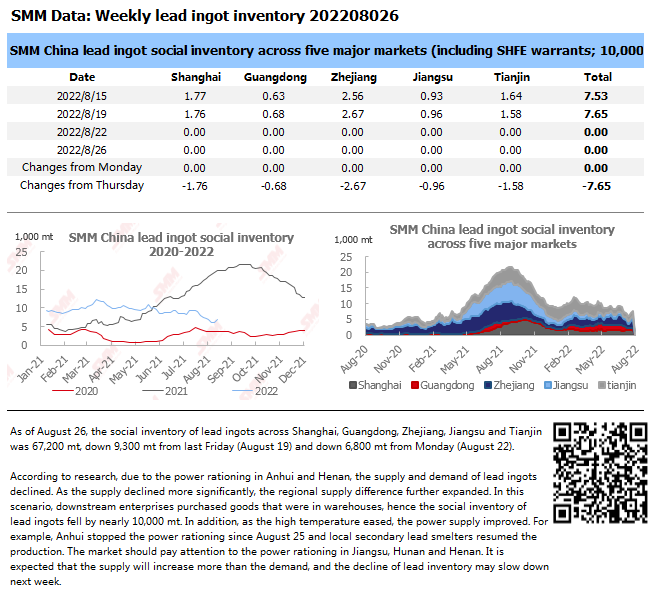 Social inventory of zinc ingots in seven major markets in China fell 600 tons from Monday
According to data from SMM, zinc ingot inventories in seven major markets in China totaled 125,400 tonnes as of Aug. 26, down 600 tonnes from Monday and 6,800 tonnes from the previous week. Since the premium price difference between Shanghai and Tianjin widened earlier this week, some commodity holders have been shipping their shipments from Shanghai to Tianjin, causing Shanghai inventories to drop. In Guangdong, arrivals have been relatively tight, and some commodity holders are also transferring zinc ingots to Tianjin for its high premiums. In addition, some foundries also delivered their goods to Tianjin, which accelerated the destocking of Guangdong inventories. Additionally, after zinc prices rallied, downstream traders bought on rigid demand for fear of further upside in the future. Consequently, inventory in Guangdong fell during the week. In Tianjin, arrivals of goods from foundries in northern China remained weak. But, thanks to the high premiums in Tianjin, some stocks from Guangdong and Shanghai were transferred there, contributing to a slight increase in Tianjin stocks as buying in the market in the event of rigid demand was limited. Tianjin inventory is expected to trend higher next week. Overall, total inventory in Shanghai, Guangdong and Tianjin fell 1,400 tons, and that of seven major regions in China fell 600 tons since Monday.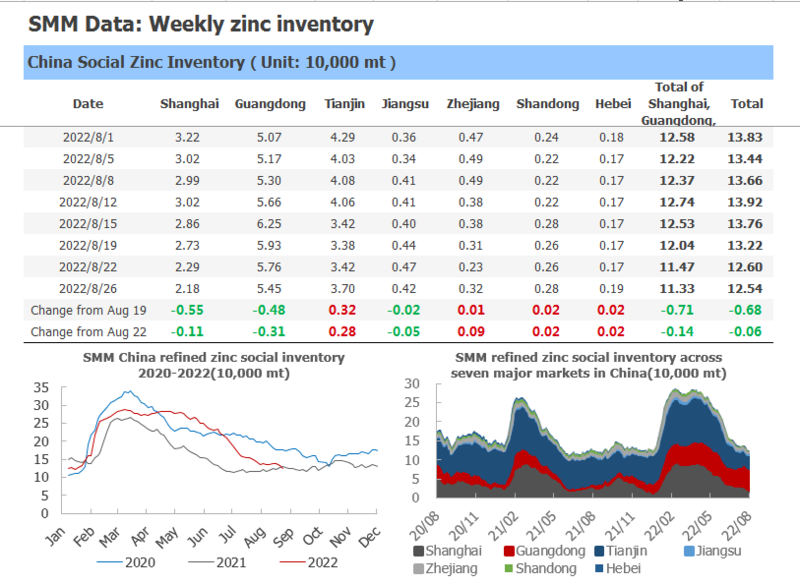 Nickel bonded area inventory fell 1,750 tonnes from last Friday
According to SMM's research, the inventory in the bonded area stood at 6,850 tonnes this week. The stock of nickel briquettes was 2,450 tons and that of nickel sheets was 4,400 tons, down 200 tons WoW. The slight decrease in nickel plate inventories was caused by weak import profits and weak downstream demand. Nickel briquette inventory fell by 1,550 tonnes as nickel sulphate capacity is gradually released during the peak season of the new energy industry, which requires more nickel briquettes in the short term.

Silicon Metal Social Inventory Decreased Over the Week
According to SMM, the social inventory of silicon metal in Huangpu Port, Kunming City and Tianjin Port decreased by 1,000 tons from the previous week to 109,000 tons as of August 26. Entry and exit from the port of Tianjin changed little over the week, while inventory from the port of Huangpu declined as arrivals were lower and shipments increased. Kunming City's inventory increased slightly due to bad transactions. Inventory growth in Sichuan and other regions slowed due to the seasonal decline in production.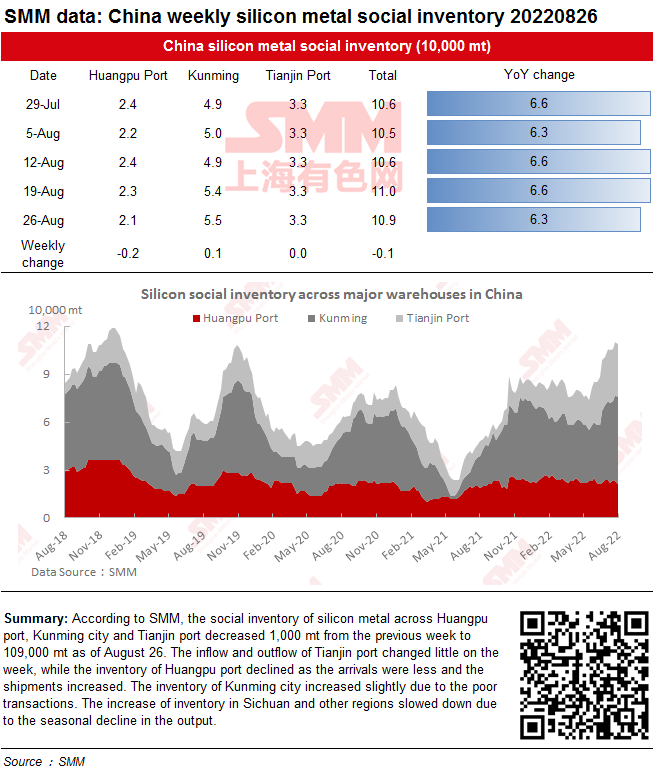 Nickel ore inventories in Chinese ports up 20,000 wmt WoW
As of August 26, port stockpiles of nickel ore in China added 20,000 wmt to 6.23 million wmt from last week. The total Ni content was 48,900 tonnes. Port inventory of nickel ore in seven major Chinese ports stood at 3.13 million wmt, up 160,000 wmt from last week. Current nickel ore demand from NPI mills and steel mills was low, and nickel ore consumption was slow when production was low. Although shipments from the mines remained stable, performance was still poor compared to the same period last year, hence the arrivals below expectations. Near-term ore stocks will hover around the current level. NPI factories are less willing to restock amid a bearish market outlook, so port inventory cannot increase significantly.