DVIDS – News – The CHCS hospital information system ends its life in Madigan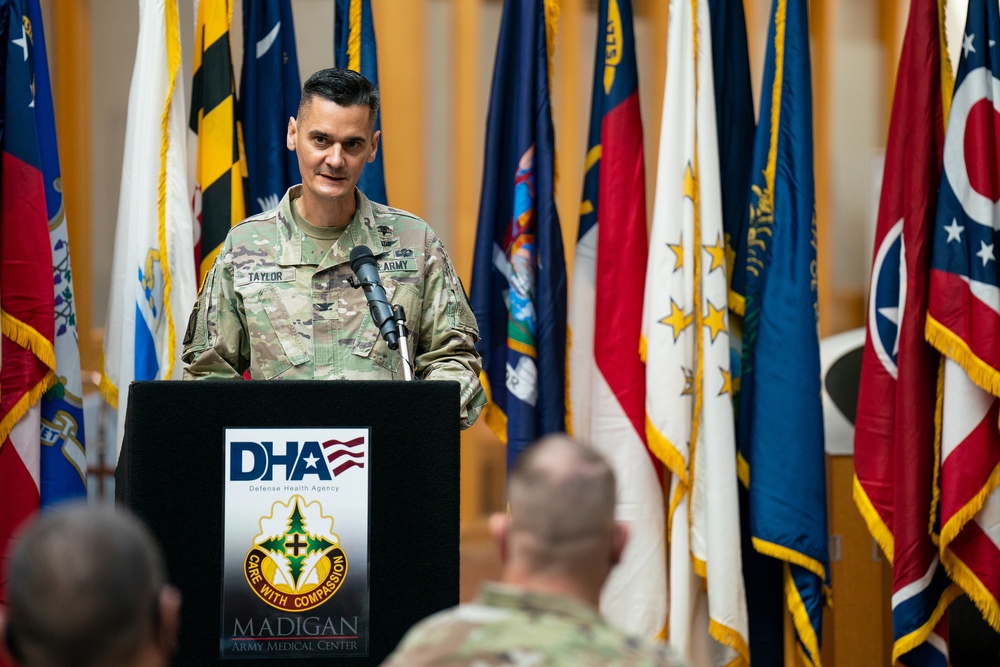 The iconic flashing green cursor of an old computer symbolically came to a halt when Madigan Army Medical Center shut down its old Composite Health Care System (CHCS) computer system during a decommissioning ceremony Sept. 29 on Joint Base Lewis- McChord, Washington.
Joining the Puget Sound Military Health System Market Director and Madigan Commanding Officer Col. ( Dr.) Jonathan Craig Taylor and Thomas "Pat" Flanders, Program Executive Director for Medical Systems and Chief Information Officer (J-6) for the Defense Health Agency, at the ceremony to mark the occasion and the progress it represents.
"CHCS, we owe a huge debt of gratitude," Appenzeller said.
Appenzeller is no stranger to JBLM or CHCS. He currently serves with MEDCOM, but has served as the deputy commanding general of Regional Health Command Pacific for the past several years. As an emergency physician, Appenzeller has hands-on experience with military medicine technology.
Appenzeller moved to his current position as deputy director of combat support and director of health operations for the Defense Health Agency – the medical arm of the Department of Defense. From this position, he was able to have a clear vision of the commitment to standardizing and improving medical records throughout a patient's life.
"It's a turning point in military medicine, and it's the evolution — the next evolutionary step — of our medical record," he said.
Not just a leader overseeing technological change, Appenzeller has its own experiences as a supplier using CHCS.
"I am an emergency doctor by profession, Colonel Taylor is a family doctor. Our records have never crossed. I never knew what he was doing. He didn't know what we were doing. Our vendors sometimes run three or more disparate systems at our facilities," he said.
The need to streamline into one system was a major factor in the move to a new electronic health record and the dismantling of CHCS.
This ceremony marks the final phase of disposal and demilitarization in the process of acquiring CHCS from Madigan that began decades ago.
In 1968, humans had yet to set foot on the moon, and most Americans were far from familiar with computers and their ability to contain and regurgitate information. Certainly, few people even had an idea of ​​how they would eventually become a pervasive aspect of all of our lives. The DoD, however, aimed to develop computer support for its hospitals and clinics.
It took another two decades of needs assessment and technology development until, in 1988, the CHCS came to life. After a fierce competition between vendors, a major contract was awarded to Science Applications International Corporation (SAIC), now known as Leidos, to design, develop and implement CHCS.
Initially, he deployed to nine military hospitals, three for each service – Army, Navy and Air Force. In the years that followed, it was deployed to all military processing facilities and saw many upgrades. The system was fielded at Madigan in 1996. This marked the end of the program's deployment which lasted from 1992 to 1996 for full deployment throughout the DoD.
According to the DHA, the CHCS was designed as a hospital information system that supports all administrative processes, from initial appointment scheduling, to admissions, laboratory orders and results, to workload. and billing. It was never intended to be an electronic health record (EHR); it is an administrative tool for managing a medical facility.
CHCS is module-based and in its early years was configured with 13 connected personal computers running UNIX. Each computer ran some functionality of the system, to include modules for patient appointment and scheduling, laboratory, radiology, and other administrative and clinical elements. Over time, the architecture was upgraded to a server hosting these components.
At first, this network of separate computers meant that each MTF had its own standalone version of CHCS. All patient encounters remained on the computer of the facility where they occurred. It was not a universal system, but served as a solid administrative base to which other systems were linked.
The early 2000s brought the first iteration of an EHR in the Armed Forces Longitudinal Health Technology Application (AHLTA). CHCS continued to perform its functions in all major modules and AHLTA enabled providers to document clinical notes, place orders and select billing codes for procedures. More importantly, it connected military hospitals and clinics allowing patient data to be shared in what was now a global system.
Although CHCS was never meant to be the answer to all needs, it was no small feat either.
"The system has become one of the largest computer information systems in the world, supporting more than 150,000 healthcare providers with over 9.6 million beneficiaries, processing approximately 134,000 encounters per day. At its peak, CHCS was installed at 104 host sites and had over 100 interfaces to internal and external DoD and Department of Veterans Affairs systems," Flanders said.
Medical providers seem to have little trouble saying about CHCS.
"As a hospital care provider, the CHCS was quite easy to navigate for laboratory and radiology results and was the only repository for microbiology results," said Colonel (Dr) Cristin Mount, medical director of services intensive care unit in Madigan.
Many current military medical experts, like Mount, were trainees when they got their start at CHCS.
"CHCS was a good system to see the data and [for] command," said Col. (Dr) David Owshalimpur, nephrology consultant to the US Army Surgeon General and chief of nephrology at Madigan, who noted that he could only remember once when the system was down in nearly 20 years of use. . "I had always opened it during clinic days. If you knew the right "cheat codes" you could fly through CHCS. It was also a much faster way to order labs, meds and rads [radiological imaging] than AHLTA. So CHCS was a nice backbone for Essentris and AHTLA.
Essentris is the EHR used for hospital care, or was until the arrival of MHS GENESIS.
The biggest vendor complaint about pre-MHS GENESIS systems is that there were too many of them.
"The main drawback was having three separate programs open all the time to provide patient care (Essentris, CHCS, AHTLA)," said Owshalimpur, who also noted that other systems were also often needed to obtain information. additional. "No wonder it took forever to write notes."
Although vendors readily acknowledge that MHS GENESIS is not yet a perfected product, it is a significant step forward.
"A lot of what we do when we admit inpatients is to go through past clinic appointment notes and review recent hospital admission notes to add to the information we get from the patient. interview and physical examination. In older systems, we had to scroll through CHCS, then open AHLTA to find past outpatient visits, then unarchive past admissions into Essentris to review inpatient history. The advantage of MHS GENESIS is that all of this information is there and reasonably easy to access in chronological order," Mount said.
As the military gradually streamlines into this unique EHR, some of the expected cost savings should become just as obvious as the time savings.
One of the reasons for the abandonment of older systems like CHCS was that they were expensive to maintain. As technology ages, maintaining it becomes more and more expensive. Additionally, the adoption of a single system across all military installations that can also capture external vendor records and merge seamlessly with Department of Veterans Affairs records should result in significant cost savings over multiple systems that were used before.
Although MHS GENESIS took over the current registration duties from Madigan in 2017, the CHCS was still accessible for its records and all necessary information stored there needed to be captured either in the new system or as an archive before to be able to be completely downgraded. These requirements are now met.
Some installations within the DoD have yet to transition to MHS GENESIS, so the CHCS will live for some time in parts of the Army.
Everyone involved in the ceremony agreed that the CHCS proved invaluable.
"It gave the military health system the tools to make the technological leap from paper to electronic order entry," Flanders said.
As its usefulness has run its course, advancing the dismantling is also important and Madigan has been instrumental in that effort.
"The lessons learned and sustainable processes that have been honed throughout the decommissioning effort here at Madigan will be used across the MHS enterprise to significantly streamline efforts as we continue with the rest of the decommissioning," Flanders noted. .
As Taylor noted, removing it, "Signs our commitment to constantly improving our health informatics not only for our medical teams, but also for our patients. It has served us well and the benefits of this system will always be with us.
| | |
| --- | --- |
| Date taken: | 29.09.2022 |
| Date posted: | 29.09.2022 19:44 |
| Story ID: | 430437 |
| Location: | TACOMA, WA, United States |
---
| | |
| --- | --- |
| Web views: | seven |
| Downloads: | 0 |
---
PUBLIC DOMAIN


This work, CHCS hospital information system ends its life in Madiganby Kirstin Grace Simonsidentified by DVDmust follow the restrictions listed at https://www.dvidshub.net/about/copyright.