GSA and Enterprise Knowledge Work Together on Federal Records Management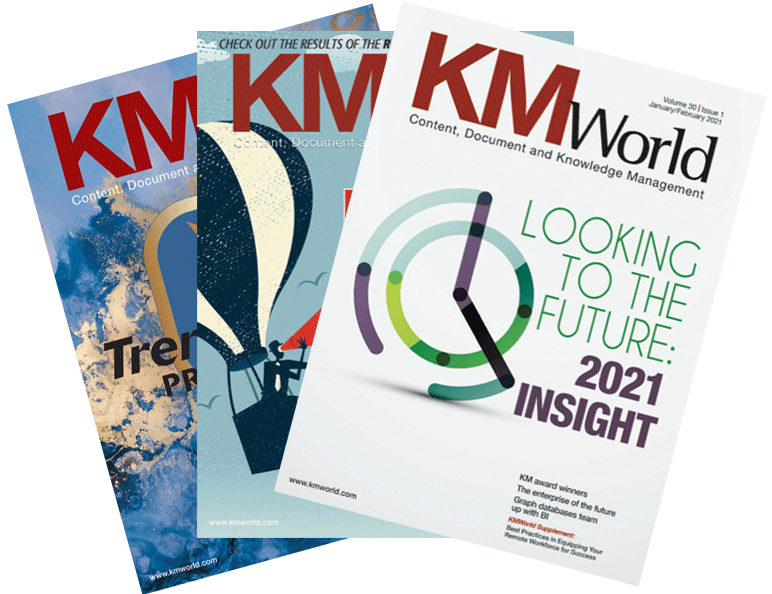 With the U.S. Government Office of Management and Budget Regulation M-19-21, Electronic Records Management, federal agencies face a December 2022 deadline to manage their records electronically and demonstrate their capabilities to the 'OMB and the United States National Archives and Records Administration (NARA).
NARA sponsors the Federal Electronic Records Modernization Initiative (FERMI), which outlines how federal agencies will modernize and manage records in a cost-effective, standardized, and interoperable manner with other intra- and inter-agency records and data management systems.
david simmonsKnowledge Management Specialist, Senior Records Officer, General Services Administration (GSA) and Angela Pittsconsultant, Enterprise Knowledge discussed, "Roadmaps and Obstacles to Federal Electronic Records Management" at KM World 2022.
They looked at strategies to identify the organizational change management elements needed to successfully transition standard document management (RM) functions – capture, maintenance, disposal, transfer, metadata attribution and reporting – from manual practices on paper to more effective practices. and less expensive electronic systems.
The General Services Administration worked with Enterprise Knowledge to update its records management process, Pitts explained. Document management is a form of knowledge management that knows what content our business creates and manages, and why. It's about understanding the content that customers value, integrating knowledge of a document's lifecycle into work processes, and reducing the resources and attention needed to manage content collections, said Simons.
According to Simmons, redefining federal records:
Saves time for people looking for relevant information
Increases confidence by locating information quickly and completely
Protects individuals and organizations against legal risks
The GSA spent 10 years consolidating all of its corporate records onto a platform where finished documents could be declared records and processed throughout the records lifecycle, Pitts said.
"We had to define and refine ROI to keep stakeholders in mind," Pitts said.
Enterprise Knowledge worked to use a taxonomy on classification and identification of records. Developers were the first obstacle to this process, Simmons said. The very resistance to making records management a priority nearly derailed the project. The second hurdle was financial as a script behind the recording storage needed to be reconfigured.
"Each time we had to shift our focus a bit," Simmons said.
There will be instances where content will have security implications in ways that may not be considered, so companies should expect roadblocks on this, Pitts said.
"One way to prepare for this is to always have the mindset to market this," Pitts said. "Make people understand where the value is."
When consolidating systems, there is always data synchronization that is required, and this is a challenge to overcome.
"When the project takes a different direction, be nimble and ready for it to happen," Pitts said.
According to Simmons, lessons learned from this project include:
Building RM on previous achievements
Aim for 100% RM identification during migration, which avoids having to do more work
Find the freshness date of each document and use it en masse when possible
Build systems as if the platform/software will change in 3-5 years
Be an advocate for content over technology
"Understand that records and documents have value that outlasts generations of technology," Simmons said.
KMWorld returned in-person to the JW Marriott in Washington DC November 7-10, with pre-conference workshops being held November 7.
KMWorld 2022 is part of a unique program of five co-located conferences, which also includes Enterprise Search & Discovery, Office 365 Symposium, Taxonomy Boot Camp and Text Analytics Forum.