Los Angeles freight volumes decline as Christmas inventory arrives early and inflation persists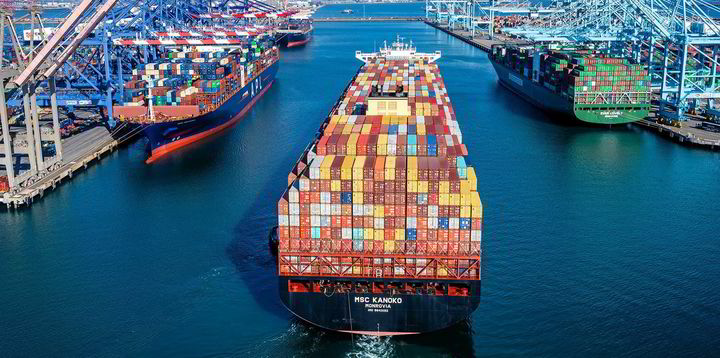 Cargo volumes entering the Port of Los Angeles declined in September due to early shipments of Christmas goods and record inflation, prompting consumers to spend less on discretionary items.
The busiest port in the United States handled nearly 710,000 TEUs of containers in September, down 21.5% from a record monthly volume taken in the same month in 2021.
"A lot of holiday season merchandise has already arrived," executive director Gene Seroka said Wednesday at a news conference attended by National Association of Manufacturers chief executive Jay Timmons.
"Traditionally. September has been a high volume month for end of year produce. This year our peak months were June and July.
The port handled 7.86 million TEUs in the first nine months of 2022, about 4% below last year's record pace, Seroka said.
"Despite what will likely be a smooth ending to 2022, we are on track to have the second best year in our history," he said.
The article continues below the ad
"Most importantly, the freight backlog that began last year has been nearly eliminated thanks to the diligent and combined efforts of our supply chain partners."
Imports loaded in September 2022 reached 343,000 teu, down 27% compared to the previous year, while exports loaded amounted to around 77,700 teu, up 3% compared to last September.
The number of empty containers at the port totaled almost 289,000 teu, a decrease of 20% compared to last year.
Port cargo volumes also fell due to contract negotiations with West Coast unions pushing shippers to unload cargo at East Coast ports and those in U.S. waters in the Gulf of Mexico, Seroka said.
But that cargo movement has just led to overwhelming Atlantic and Gulf Coast ports with cargo volumes, he said.
"It's probably going to continue until the West Coast labor contract is in place and it can't happen soon enough," Seroka said.
"We moved the problem from one coast to two others. We must continue to work on fluidity.
Timmons said three-quarters of manufacturers globally rate supply chain issues as their biggest business challenge for 2022.
Only about 11% of them expect the problem to be fixed by the end of this year, he said.
"It's a pretty low number obviously," he said.
At the same time, less than 75% see supply chain issues persisting beyond 2023, he said.
"Companies are really feeling the effects, I must say, of supply chain dysfunction in the form of increased raw material costs, higher costs, and higher transportation and logistics costs," did he declare.
"It's not good for the economy."