Naval records confirm Clyde Shavers lied about his military experience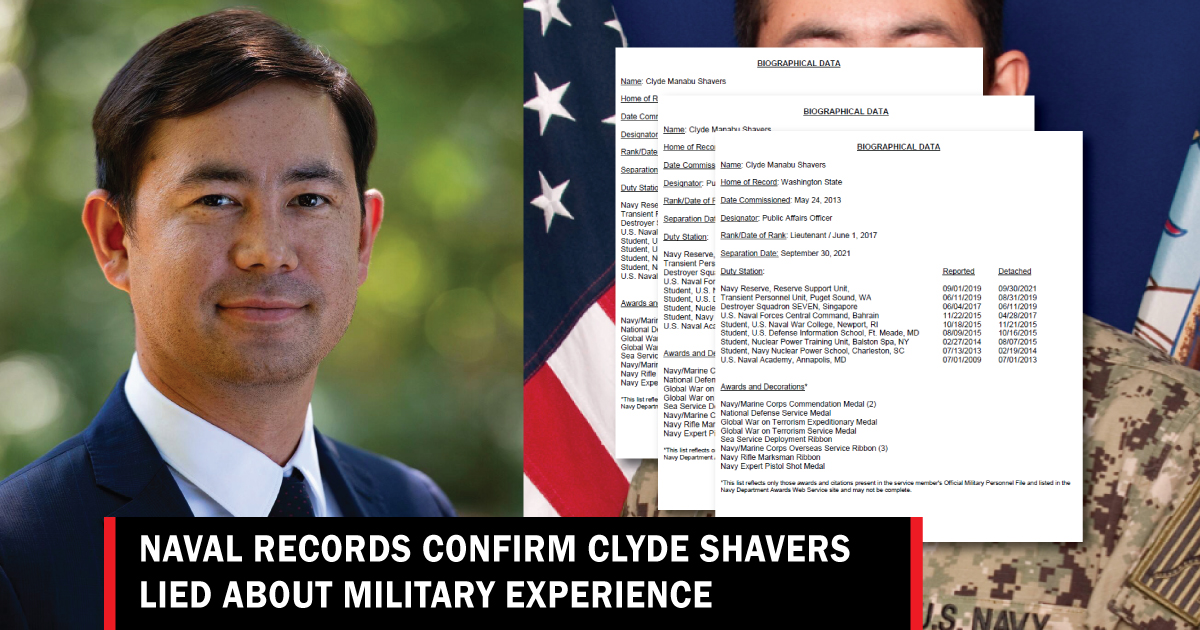 OAK HARBOUR, November 2, 2022— Yesterday, the Lynnwood Times ran a story about candidate Clyde Shavers running for Representative for the 10th Legislative District, allegedly sprucing up his credentials and waiting for his military records to back up claims that Shavers was also not a sub-officer. US Navy nuclear sailor as he claims.
The Lynnwood Times today obtained Shavers' naval files from the Office of Navy Information at the Pentagon, confirming that Clyde Shavers was never a US Navy nuclear submarine officer as he claimed; however, he attended Navy nuclear power school and training. He was honorably discharged on September 30, 2021 as a lieutenant working as a public affairs officer.
The report shows that Shavers entered the US Naval Academy in Annapolis, Maryland on July 1, 2009, and completed his training on July 1, 2013. From there he was a student at the Navy Nuclear Power School in Charleston, Utah. North Carolina, from July 13, 2013 to February 19, 2014, and a student of a nuclear energy training unit at Ballston Spa, New York, from February 27, 2014 to August 7, 2015.
He was then a student at the US Naval War College, US Naval Forces Central Command, Destroyer Squadron SEVEN, Transient Personnel Unit, and then the Navy Reserves until September 30, 2021. Records do not indicate why Shavers Summer did not receive the title of nuclear submarine officer, although he did undergo naval nuclear power training.
Throughout his career in the US Navy, Shavers received several honors including two Navy/Marine Corps Commendation Medals, the National Defense Service Medal, the World War Against Expeditionary Medal, Terrorism, The Global War on Terrorism Service Medal, Sea Service Deployment Ribbon, Three Navy/Navy Medals. Crops Overseas Service Ribbons, Navy Rifle Marksman Ribbon and the Navy Expert Pistol Shot Medal.
After obtaining a letter from Shavers' father, Brett Shavers, who claimed Shavers was not a U.S. Navy submarine officer, exaggerated his mother's immigration status, did not know the homeless, did not grow up in a farming family and does not reside in the 10th Legislative District, the Lynnwood Times has since been able to verify that Shavers is not a practicing attorney, after contacting both the Washington State Bar Association and Perkins Coie LLP.
While the Lynnwood Times was able to confirm that Shavers was not a practicing solicitor at Perkins Coie LLP, although he did work there as a summer partner. Shavers completed his law degree with Yale Law School, but did not pass the Washington State Bar, which prohibits the use of the term "attorney" – not obtaining the license to practice law or invoke solicitor-client privilege.
According to the Public Disclosure Commission (PDC), Shavers received $479,758.21 in contributions and an additional $296,882.75 in independent expenses on his behalf, $294,960.49 of which came from the Democratic Political Action Committee, New Direction PAC and is associated with the Democratic consulting group, Blue Wave Political Partners, LLC.
According to the PDC, an independent expenditure is "expenditure, often advertising, that supports or opposes a candidate or ballot measure and is made without the co-operation, consultation or co-operation of the campaign from which it benefits".
The top 3 contributors to the Shavers campaign are the House Democratic Campaign Committee, $105,029.75, the WA State Democratic Central Committee, $75,478.83, and the WA Senate Demonstration Camp, $50,000.
According to a Crosscut article, House Democratic Campaign Committee Chairman Rep. Joe Fitzgibbon (D-West Seattle) made the following statement regarding Shavers' dishonest credentials and life experience.
"I would say he wasn't clear enough in how he described several aspects of his experience. We expect candidates to be perfectly clear and precise.
The Lynnwood Times contacted the elected officials who endorsed Shavers to ask if they would rescind their endorsement. The following elected officials have not yet responded to our request:
Melissa Beaton, Member of Mount Vernon City Council
Richard Brocksmith, Member of Mount Vernon City Council
Peter Browning, Skagit County Commissioner
Iris Carias, Mount Vernon City Council Member
Langley City Council Member Craig Cyr
Megan Dunn, Snohomish County Council Member
Savannah Erickson, South Whidbey Fire Marshal/EMS
Louis Harris, Mukilteo City Council Member
Oak Harbor City Council Member Shane Hoffmire
Lisa Janicki, Skagit County Commissioner, District 3
Liz Lovelett, WA State Senator, 40th LD
Langley City Council Member Rhonda Salerno
Anacortes City Council Member Ryan Walters
Emily Wicks, WA State Representative, 38th Legislative District
Island County, District 1 Commissioner Melanie Bacon issued the following statement regarding her endorsement of Clyde Shavers. "I love both Clyde and Greg, personally. But Clyde is pro-choice, and Greg isn't. I stand by my endorsement of Clyde Shavers.
Janet St Clair, County Commissioner of Island, District 3, emailed us which The Lynnwood Times will follow up with her.
After contacting Clyde Shavers for comment, Shavers dismissed his father's letter as "inaccurate and personally very painful for him. [him] like his son.