September 2022 sales above average with inventory well below average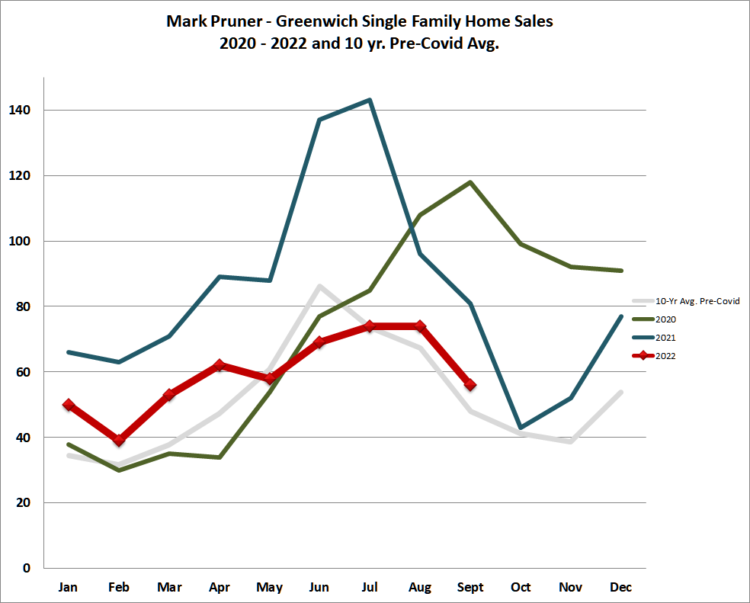 By Mark Pruner
We had 56 single family sales in September 2022; this compares to our average of 48 sales over 10 years before Covid. What's really remarkable is that we only had an average of 213 announcements for the month. Now we have had 74 new listings on the market which means we started the month with 198 listings and after new listings and contracts ended up with 223 listings. This "spectacular" increase in registrations of 12.6% in one month was in reality only 25 registrations; a number we would often add in a week in a normal fall market.
Our September sales were up 17% from our 10-year average, while our inventory remained at very low levels. This analysis, however, is not what you see in most national press analysis, which focuses on year-over-year sales comparisons. In normal markets, year-over-year comparisons are useful, but they have very limited applicability in 2022 when 2021 was an all-time high. Last September we sold 81 homes, so year over year our sales are down 31%. A 31% Many markets in the United States have seen similar sales declines that are making headlines. The problem is that the headline says our sales levels are bad, when they aren't, at least in Greenwich, where September sales were up 17% from our 10-year pre-Covid average.
If you stretch from last month to the whole of the third quarter, you see similar numbers year over year. We made 204 sales in the 3rd quarter. This compares to our pre-Covid 10-year average of 189 sales, which means our Q3 sales were up 8.5% from our 10-year average. At the same time, our Q3 sales were down 36% from last year's all-time high of 320 home sales in Q3.
Obviously, our Q3 and September sales didn't come close to last year's sales, but we did with much less inventory. If you go back to our last pre-Covid year, we had 629 homes for sale in September 2019. While our sales may have been down 36% from last year, our inventory was down 65% from last year. to 2019 and 17% compared to September 2021.
If our sales are above average, does that mean despite all the national media coverage, that we really have a good market. The short answer is we do, it just doesn't compare well to an all-time record year. The question is for how much longer? At the end of September 2022, we had 67 contracts compared to 101 contracts at the end of September 2021. This is even below the 69 contracts we had at the end of September 2019.
Obviously the market is weakening, but it does every year around this time. Our contracts typically peak in May, resulting in sales peaking in June or July when those contracts close. This year we are seeing contracts falling at a faster rate. However, this drop is only slightly influenced by the rise in mortgage interest rates. You can see this by our tiny median 35 days on market and the sales of the most interest rate sensitive homes, those under $1.5 million.
In September 2022, we sold 14 homes under $1.5 million, where mortgages are typically used. In September 2019, we sold 20 homes under $1.5 million. This 30% drop is partly due to higher interest rates, but the main reason for the drop is lower inventory in 2022. In September 2022, we only had 27 announcements at less than 1.5 million, compared to 115 listings at less than $1.5 million in September 2019. A 77% drop in inventory limits sales. As a result, median days to market have dropped from 143 days in 2019 to just 35 days now. If we had more inventory, we would have more sales.
That's not to say that higher interest rates don't impact the market. Jay Castro of JP Morgan Chase in Riverside sent me an interesting chart he had prepared. If you buy a $1.5 million home and take out a typical 80% mortgage, your monthly payment jumped from $5,816 in March to $7,003 in September, a jump of $1,187 in your monthly payment . Additionally, some of these payments will be made with after-tax dollars, as the interest deduction limit only applies to the first $750,000 of principal.
In my opinion, even more dramatic than the change in monthly payment is the change in what you can afford. At the end of March, you could afford a $1,500,000 house with a monthly payment of $5,816. By the end of September, that same payment would only get you a $996,500 loan and at 80% you could only afford a $1,246,000 home. This is a decrease of $254,000 in purchase value. To make matters even more difficult, house prices continued to rise from March to September.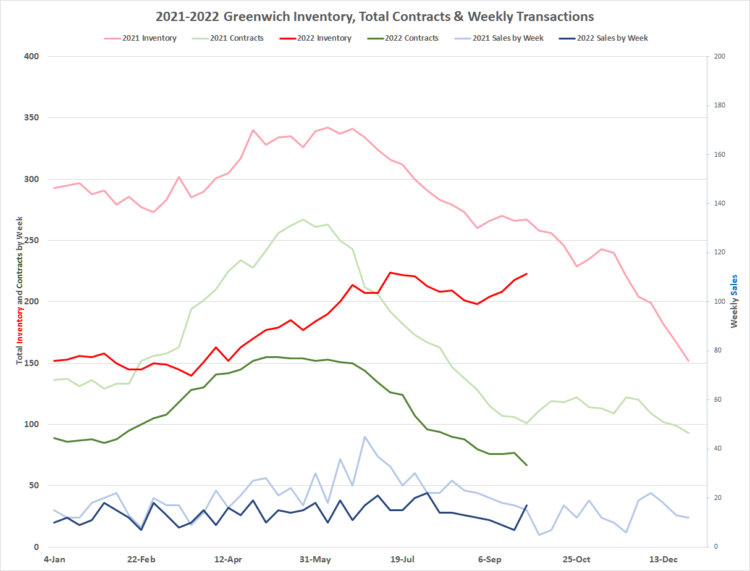 Another effect of this drop in affordability from $1.5m to $1.25 is that you have fewer homes to choose from In Greenwich we only have 18 homes under $1.25m . If you could afford a $1.5 million home, you could choose from 29 homes.
The buyer who needs a mortgage has a tough choice, either buy the $1.5 million home and pay $1,200 more in their monthly mortgage payment, or have less choice and buy a larger home. small of 400 square feet. (The latter is based on our YTD$/sf average of $644 for properties selling around $1.5M.)
Buyers under $1.5 million face a very competitive market with less than 2 months supply. They are also willing to pay it all in cash, or at least forgo their mortgage contingency, if they are to compete in this high demand/low inventory price range.
While overall sales are down from last year, one price range actually has more sales this year than last year. From 4 to 5 million dollars, we achieved 58 sales this year, which is 2 sales more than last year's record. We have seen a slight decrease in contracts in this price range compared to last year, but we are still down from 5.0 months supply last year to an even more pro-seller supply of 4, 2 months.
In September of this year, we also see good activity in the $5-6.5 million price range, where contracts are up, and September 2022 sales were better than September 2021 sales.
The one area where we continue to see noticeable weakness is the $10M+ market where we have 34 listings up 64% from last year with just 8 sales and no contracts. This equates to 38 months of supply. Of course, that's better than the 49 months supply we had for this price range in September 2019.
For people looking to sell their home, the biggest issue they face is the changing attitude of buyers. Potential buyers don't feel rushed to buy and can be discouraged by even minor issues. Some buyers expect prices to drop and they will get a better deal later.
Once they find a home, the story is often different from their perceptions if they are looking for less than $4 million. There we still have a lot of buyers for the small inventory we have. On the other hand, many sellers have also changed their attitude and are ready to be more accommodating. For buyers who are willing to take risks, this is a good time to make offers.
Stay tuned to see if inventory will continue to rise and if high-end sales have really shifted into Q4 as we've seen in previous years.
To mark Shears is a realtor with Compass. He can be reached at 203-817-2871 or mark.shears@compass.com