Tennessee has the 6th most affordable home inventory among affordable US states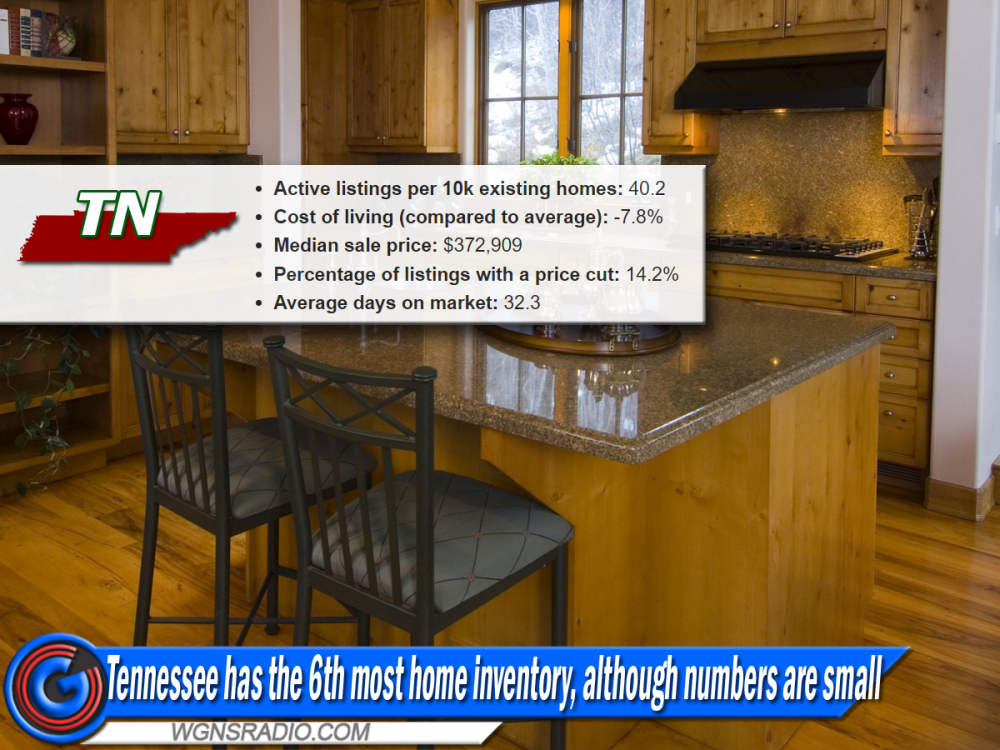 The real estate market has shown encouraging signs for buyers in recent months. A recent analysis found that Tennessee, where the cost of living is 7.8% lower than the national average, has 40.2 active listings per 10,000 existing homes. Of all the affordable US states, Tennessee has the 6th largest inventory of homes, although the current numbers aren't that great. Homes are now spending more time on the market and sellers are more willing to lower prices. And buyers are walking away from trades more often, suggesting they are regaining bargaining power after an extremely favorable period for sellers.
Regarding new homes in Murfreesboro, Mayor Shane McFarland said City Council is seeing fewer and fewer builders applying for permits to build new neighborhoods, which means there's a lack of land to build on. new developments…
Now the cost of a new home in the 'Boro is $500,000 or more…
Housing affordability remains a major challenge, especially for first-time home buyers. Mortgage interest rates have risen dramatically since the start of 2022, adding hundreds of dollars to potential borrowers' monthly mortgage payments. Consistently high inflation over the past year is eating away at household budgets, leaving less money available for home purchases. And inflation has also increased the cost of homes, as strong demand and weak supply have pushed prices to record highs.
National inventory declines and price increases have been exacerbated over the past two years, but the market has seen these trends for most of the past decade. Monthly active listings consistently exceeded 2 million during the peak season from 2012 to 2015, but began to decline in subsequent years. Listings have not topped 1.5 million since late 2019 and last topped 1 million in November 2020. Meanwhile, median sale prices have more than doubled over the past decade, including a 50% increase since the beginning of 2020 until now.
The affordability crisis now means that many expensive locations have more inventory available because buyers have been shut out of their markets. Hawaii is one of the most expensive states in the country, especially for housing, and also leads the United States with 69.1 active listings per 10,000 existing homes. Other high-cost locations like New Jersey and Connecticut also rank highly for available inventory. In contrast, low-cost states, including New Mexico, West Virginia, and Kansas, have fewer than 10 active listings for sale per 10,000 homes.
Despite the challenges of today's real estate market, buyers looking for locations that are both affordable and have adequate inventory have some options. South Carolina, Nevada and Arizona all have lower-than-average costs of living, but rank in the top 10 for active listings per 10,000 existing homes. And on a metropolitan level, cities in those states — such as Myrtle Beach, Las Vegas, and Tucson, respectively — are some of the best for homebuyers looking for available inventory and affordable living.
Data used in this analysis comes from Redfin's data center, regional price parities from the US Bureau of Economic Analysis, and the US Census Bureau's 2020 American Community Survey. To determine the affordable states with the most housing, Stessa researchers calculated the number of active listings per 10,000 existing homes among locations with a cost of living below the national average. The number of active registrations reflects the total number of active registrations on the last day of each month, averaged over the first five months of 2022. In the event of a tie, the state with the lowest cost of living was ranked higher. Only locations with complete monthly data for 2022 were considered in this analysis.
The analysis found that in Tennessee, where the cost of living is 7.8% lower than the national average, there are 40.2 active listings for every 10,000 existing homes. Of all the affordable US states, Tennessee has the 6th highest home inventory. Here is a summary of the data for Tennessee:
Active listings for 10,000 existing homes: 40.2

Cost of living (compared to average): -7.8%

Median sale price: $372,909

Percentage of listings with a price drop: 14.2%

Average days on market: 32.3
For more information, a detailed methodology and full results, you can find the original report on the Stessa website: https://www.stessa.com/blog/affordable-cities-with-the-most-home-inventory/