The inventory glut and what it means for your holiday shopping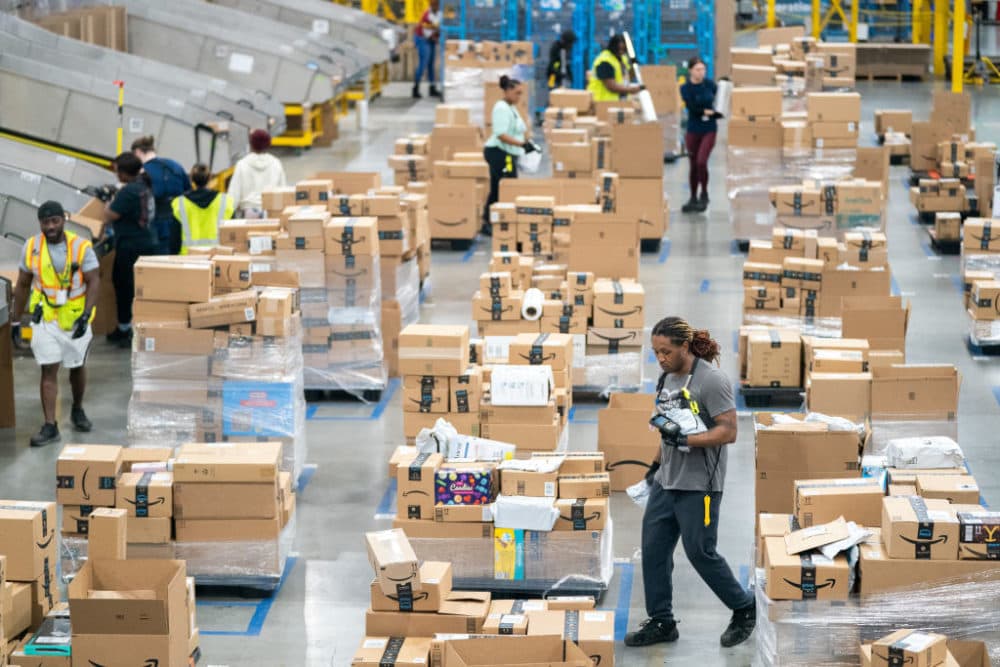 Last year at this time, retailers had strong demandbut the stock was insufficient.
This year, it's upside down.
"We're in a situation where they've bought so much to try to avoid any kind of risky situation that they now have all this excess inventory on their books," says Professor G. Tony Bell.
So what does this mean for consumers?
Today, About: The inventory glut – why retailers have warehouses of things Americans don't buy.
Guests
G. Tony BellAssistant Professor of Professional Practice at Rutgers Business School.
Alla Valente, principal analyst at Forrester, a global market research firm. (@AllaValente)
Interview Highlights
How did retailers end up with all this excess?
G. Tony Bell: "A lot has happened in the last few years. … We have this pandemic, which is really a major event that we really didn't expect. And it has resulted in labor shortages. We have also the war in Ukraine, which is raising our oil prices. We have inflation. We have a looming recession. We have port congestion, as I heard about earlier in the introduction. And if we look at that from a chronological point of view, you know, when we talk about pre-pandemic years, we look at retailers, their suppliers, which are in particular consumer goods and retail manufacturers, and their suppliers, material suppliers raw materials and components that all operate in a more just-in-time environment.
"In an effort to try to minimize their inventory, this was a strategy to try to receive the goods as close as possible to when those goods are actually needed to be produced or delivered to a consumer. And when we look inventory, inventory can be both an asset and a liability, right? Because too much inventory is a big liability because too much inventory ties up capital, which could otherwise be used to reinvest in the supply chain, for sales and marketing, for research and development improvements.
"And so having that responsibility then becomes an issue. So we leave that environment just in time to try to keep our inventory as low as possible while making sure, of course, that our service is intact. And then we move on to the pandemic. Which caused an immediate shutdown of business. So people stop eating out. They stop travelling, they stop buying things, for the most part. So we've seen activity online as well. But you you had a number of millions of workers who were effectively made redundant.
"You had consumers even with jobs who had stopped spending. Retail sales have practically plunged. I think the number was around 20% in the first months of the pandemic in early 2021, with the most big drops really in clothing and accessories stores, about 89%, and then department stores down about 45%, so you're moving from that now to post-pandemic, or at least towards the end of the pandemic, where we started to see an increase in home goods and home improvement type products, when consumers started getting stimulus checks.
"And they also started, of course, to look at some of the savings that they started to realize as a result of the pandemic. we see these numbers on consumer spending, I think $1 trillion went to goods, you know, services as a result of coming out of the pandemic. So that's a huge change. It's a big change from, you know, having very small inventories, and then coming to a pandemic where everything pretty much shuts down and there's no activity. All of a sudden, this huge increase in consumer demand. And so how do organizations then try to match that or meet that demand? It's quite difficult to do that. That's kind of the reason we're here today.
On systemic risks in the economy
Alla Valente: "We call these systemic risks, and it's these external forces that create events. And when these events materialize, they create these systemic risks. So it's everything from pandemics to climate change to geopolitical tensions, even the rise of digital attacks. We're seeing more supply chain ransomware attacks. These external forces are happening. These events are going to happen whether or not a retailer looks for these signs. What they can do, it is, first of all, to identify what these factors are.
"Being able to assess what that potential impact on their supply chain might be and in what areas, on what products, in what geographies. And they can certainly make calculated bets in those areas. So, for example, we are seeing an increase in cyber-attacks against suppliers, manufacturers and logistics providers.We are also seeing the rise of bots that enter inventory and access products before consumers even have a chance to put them in their I mean, the bots broke the internet when it comes to Taylor Swift tickets, so anyone looking to gift them as a Christmas present is probably out of luck at this point.
"I don't know if you necessarily had to be able to predict the future to see this happening, because it was happening very consistently, and building from 2020 through the middle of this year at the same time. And that's something that's kind of frustrating. Because when we talk about the impending recession and whether or not that recession is happening, we don't know. We know there's record inflation, but at the same time, there's still good employment numbers, there's still consumer spending, so whether we call this a recession, in the typical sense, remains to be seen.
"But the average recession lasts about 10 to 12 months. At the same time, this whole supply chain crisis, if we look at three years that we've been here already, plus maybe another 12 to 18 months that it could last before supply chains really have a chance to even out. I mean, we're talking 4-5 years now. Retail CEOs are planning for economic uncertainty. They're planning for this economic risk factor.
"I don't recall them planning for supply chain imbalances. I don't recall them taking any proactive steps to try to reduce the risks in their supply chains. So why is- what we're so good at thinking and planning for economic uncertainty, but not uncertainty in the supply chain? And, you know, maybe it's this notion that, well, we just have more practical with uncertain economic conditions. But I think there are very clear steps that retailers and all businesses can take when it comes to mitigating risk in their supply chains."
When supply chains could return to normal
Alla Valente: "We need to do a better job of planning for the right levels of demand. So getting that balance equation between supply and demand. But at the same time, we need to do a better job of identifying other issues that may happen that could impact the And if we're really thinking about restoring the supply chain to its former healthy state, we have to think about all those unforeseen events that we don't necessarily think about right away.
"So, for example, how much longer is the war in Ukraine going to last? Will there be or should we see climate chaos, especially in some parts of the world? have on suppliers in these regions? What about record inflation? How far will it peak and what will be its impact on companies that are suppliers or perhaps suppliers of your suppliers? So before we can start to see the health of the supply chain increase again, we need to think about not only balancing inventory levels, but also looking at all of these other factors, and being able assess the risk and plan accordingly."
If not, how can retailers improve their forecast preparation and demand going forward?
G. Tony Bell: "I want to address this technology element, because I think it's really important. I think some of the challenges are the cost of some of the technology, and it's not easy for some of these retailers to spend so much Heck, I You know, I've seen where, you know, even working for a consumer products manufacturer where, hey, we have it in our plan to implement these great technologies to better enable our business processes to improve them and to make our supply chain efficient, adaptable. All these things that I talked about. But it costs money. It costs a lot of money. And it takes time for them to make sure they incorporate this into their business plan.
"I mean, so there's all these other things that have to happen. But I'll tell you, retailers and manufacturers will have to improve. They'll just have to improve to incorporate these technologies. I don't think about that. stage, they really have a choice. You know, predictive analytics, AI, all of those things are really important. I think it's a great way to improve their sales and operations planning processes and to make those processes more efficient as well."
What can consumers do now to shop smarter?
G. Tony Bell: "Doing research, I think, is also important. So, you know, do research with different retailers to find out what will be the best deal for them. Now that may hurt specific retailers, but for the buyer he -even…this is a very important thing to do. As for product availability, I would say that there are still issues with product availability. So if consumers are looking for a must-have item, buy it When you see the offer, don't Because more than likely it won't be available later, because we're still fighting or trying to figure it out, and consumers don't know what's available. and what is not.
"You know, we have a better idea of ​​that, but that's not the case. And so if you see something that you really want… then definitely buy it when you see it at the right price. But I will also say , you I know, given that we have these price increases, given that inflation is where it is, I think it's also important for customers to be smart about their purchases. I said, compare those prices between retailers, but also create, you know, a budget for themselves. If you can't afford it, don't buy it.