US economy shrinks 1.4% in first quarter on trade, inventories, consumer spending remains strong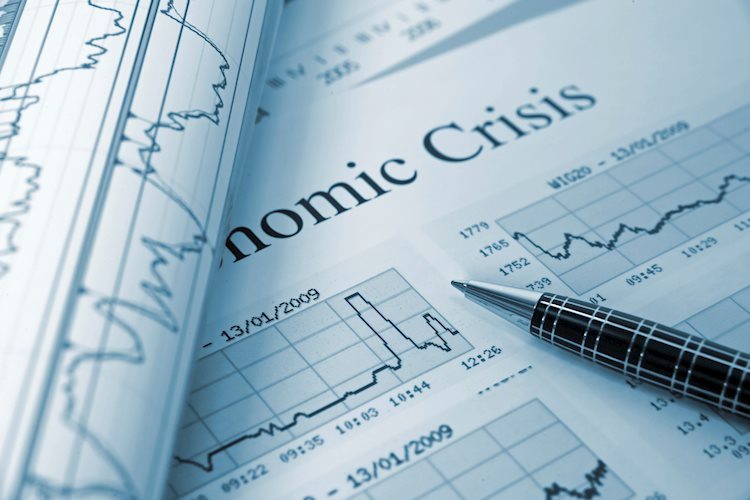 Gross domestic product fell at an annual rate of 1.4% in the first quarter, well below the consensus forecast of 1%.
Stocks, Treasury yields and the dollar rally as underlying growth looks strong.
The Federal Reserve's rate policy and the May hike should not be affected.
Economic growth in the United States contracted for the first time in two years, shrinking at an annualized pace of 1.4% in the first quarter after increasing 5.7% in 2021 with the best annual performance since 1984.
The surprise drop was worse than the Reuters survey's already weak 1% forecast and even missed the Atlanta Fed's GDPNow estimate by 0.4%. Since the first quarter of last year, the economy has grown 3.6%.
Despite the sharp deceleration in growth from 6.9% in the fourth quarter, equities rebounded strongly and Treasury yields and the dollar posted modest gains as traders noted several negative factors that are unlikely to recur. over the next few quarters.
Trade and inventory
The trade deficit widened in the first two months of the quarter as importers sought to overcome supply chain issues and exports fell. In the government's economic accounts, trade deficits subtract from GDP. Companies slowed the acquisition of inventory at a rapid pace in the second half of last year. Combined with these two elements, trade and inventories reduced first-quarter growth by around 4%. Real final sales, a category that excludes trade and inventory, accelerated at an annual rate of 2.6%.
Government spending also declined as last year's stimulus and infrastructure plans reached the end of their funding.
Consumer spending, the warping engine of the US economy, grew at an annual rate of 2.7% last quarter, compared with 2.5% in the fourth quarter. Purchases of consumer goods were little changed, while spending in the services sector added 1.9% to GDP.
Business investment in equipment and research and development was robust, up 9.2%. Private demand grew at a rate of 3.7% in the first quarter, more than double the 1.8% pace the Fed considers likely over the long term.
Markets
Stocks were considerably higher, with the Dow Jones gaining 1.85%, 614.46 points to 33,916.39 and the S&P 500 adding 103.54 points, 2.47% to 4,287.50. The Nasdaq was the leader in stocks, up 3.06%, 382.60 points to 12,871.60, helped by a strong earnings report from Meta Platforms, Facebook's parent company.
S&P500
CNBC
Treasury yields rose slightly with the 10-year up around 1.5 basis points to 2.832% and the 2-year up 5 points to 2.629%.
The US Dollar rose in all major pairs except USD/CAD where the Loonie was supported by a 2.6% gain in West Texas Intermediate (WTI) to $104.20 and increases recent and forecast rates from the Bank of Canada (BoC).
EUR/USD closed at 1.0498, its first finish below 1.0500 since early January 2017.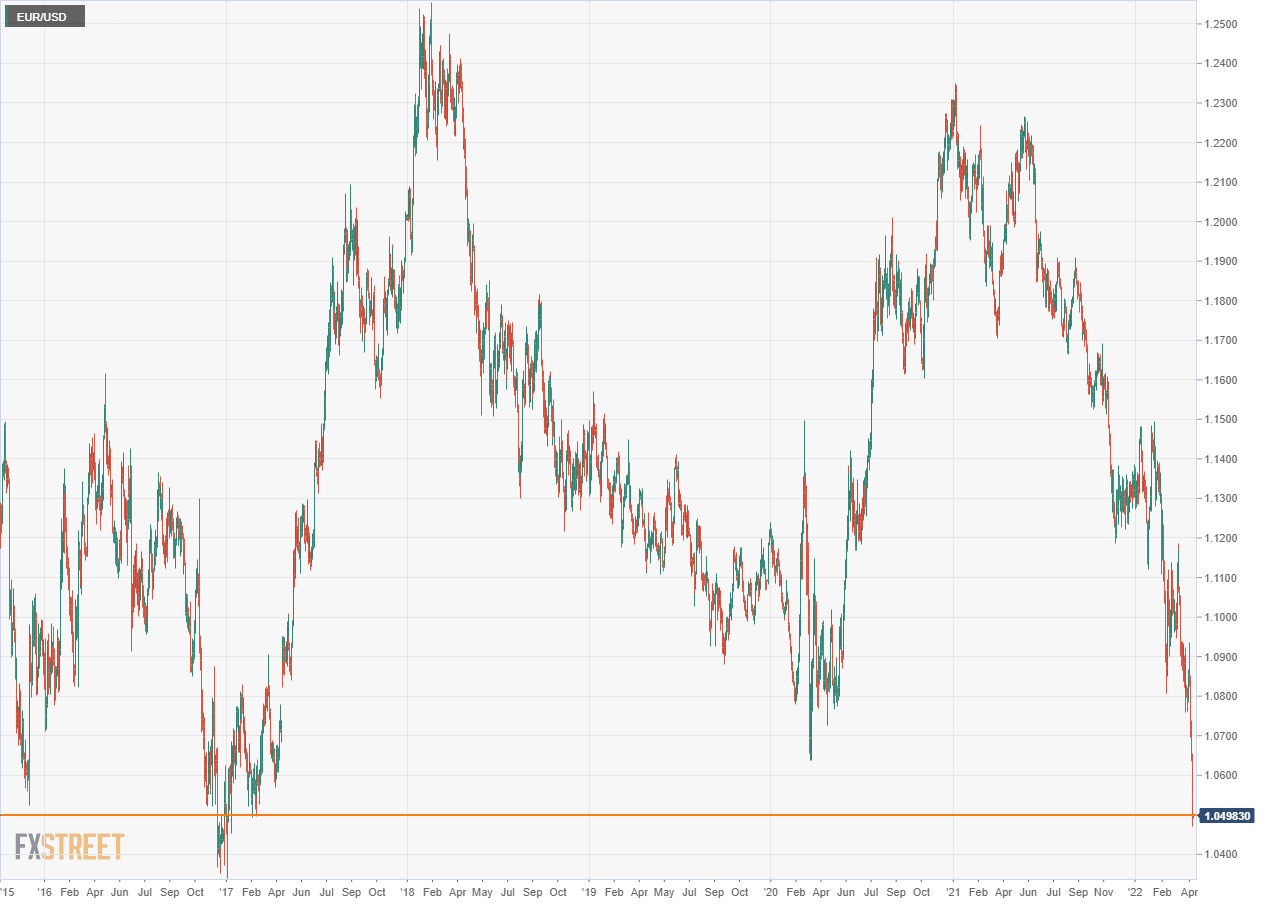 The dollar-yen rose 1.8% on the day, ending at 130.80, its highest level in two decades as the Bank of Japan (BoJ) reaffirmed its accommodative monetary policy on Thursday in Tokyo. USD/JPY is up a remarkable 13.9% since opening at 114.81 on March 7, fueled by soaring US Treasury rates, while Japanese government bond (JGB) yields are remained largely unchanged.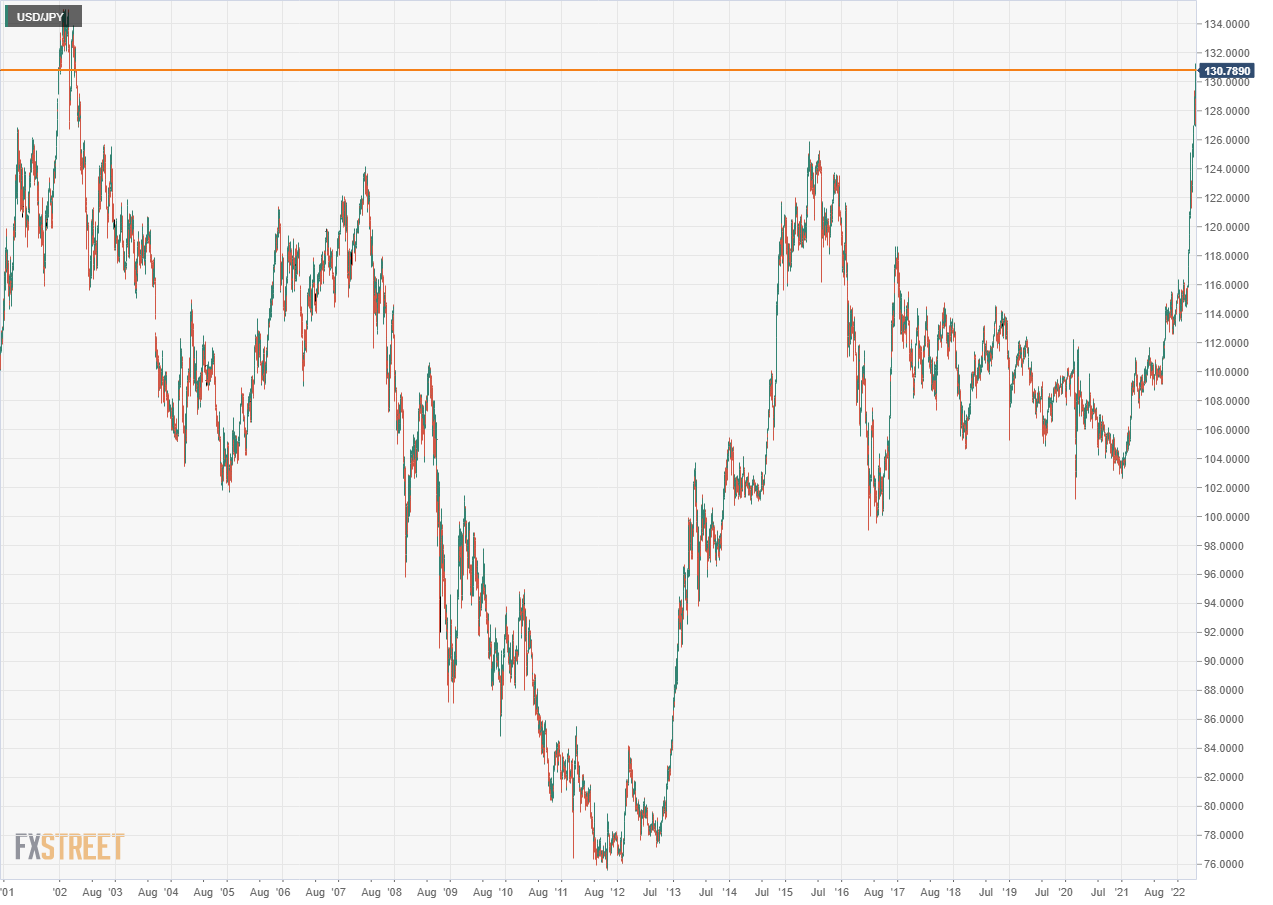 USD/CAD lost 19 points to 1.2805. AUD/USD fell 0.4% GBP/USD fell 0.6% even though the Reserve Bank of Australia (RBA) and Bank of England are expected to hike rates by 25 basis points and 15 basis points next week.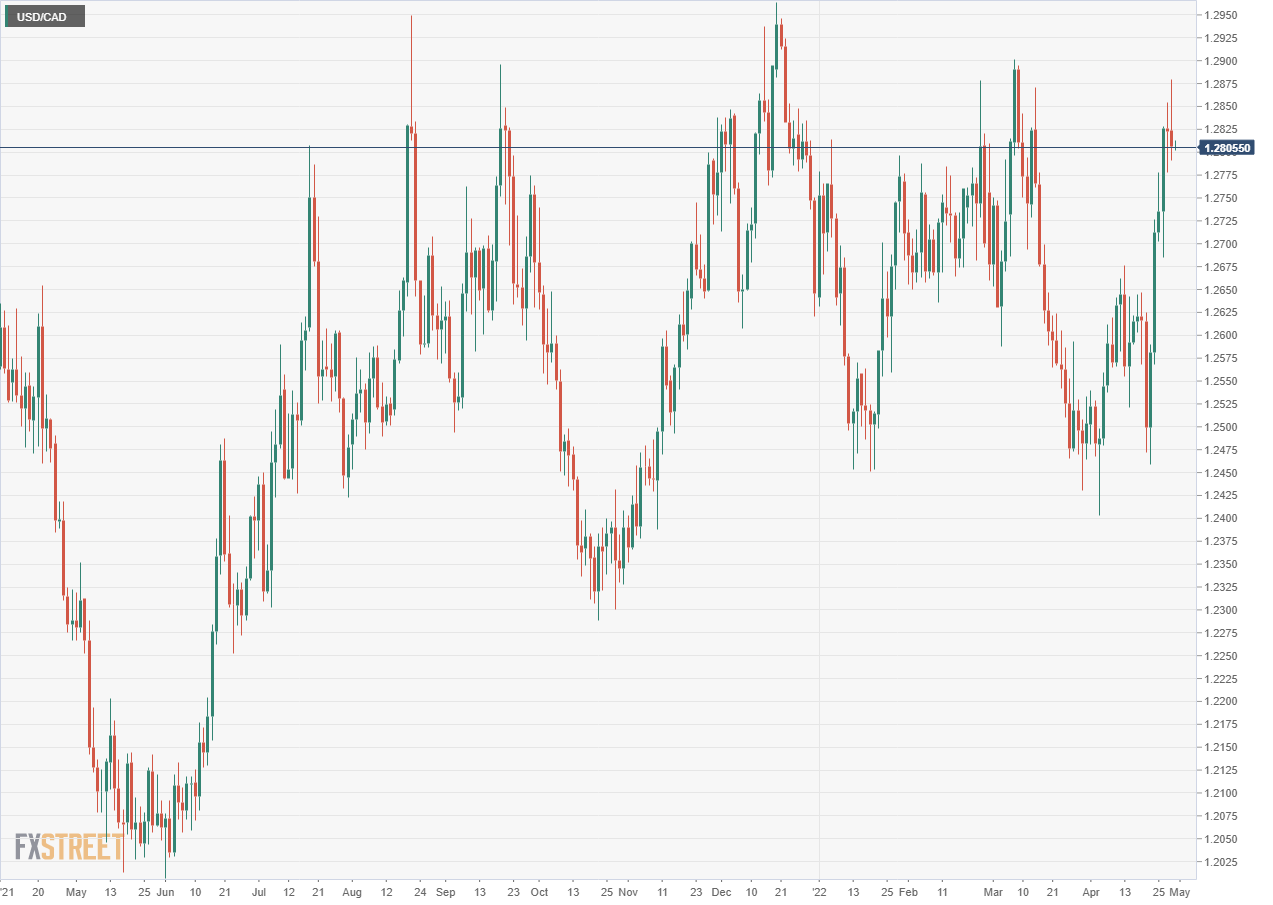 The GDP report is unlikely to alter the Federal Reserve's plans for a 0.5% increase at Wednesday's meeting. Treasury futures forecast an 81.5% chance that the federal funds rate will be 2.75% or higher by the Fed's final meeting of this year on Dec. 14.
Conclusion
Inflation is the wild card of the economy.
So far, the year-long tidal wave of price increases that has swept through all sectors of the consumer economy has not deterred household spending. One of the keys to consumer resilience is the job market. Employment is easy to find. The number of jobs offered has averaged more than 11 million over the past ten months, an absolute record. Unemployment claims were 180,000 last week, also very close to record lows, and wage gains are solid. The average hourly wage rose 5.6% in March, although it was overtaken by the headline inflation rate of 8.5%. Over the previous year, consumers lost 2.7% of their purchasing power.
As long as Americans continue to finance economic expansion, the Fed's hope of being able to reduce inflation without causing a recession can remain alive.